Blog Calendar Service: A Year of Content, Planned for You
Have a hard time coming up with topics for your company blog?  No idea how to connect your content to support converting people at various stages of the buyer's journey?
I've got the blog calendar service for you.
Read my Search Engine Journal article for my full blog calendar process and methodology (or scroll down a little further for the Cliff's notes version):
Blog Calendar Process
Step #1: Setup a Blog Calendar Template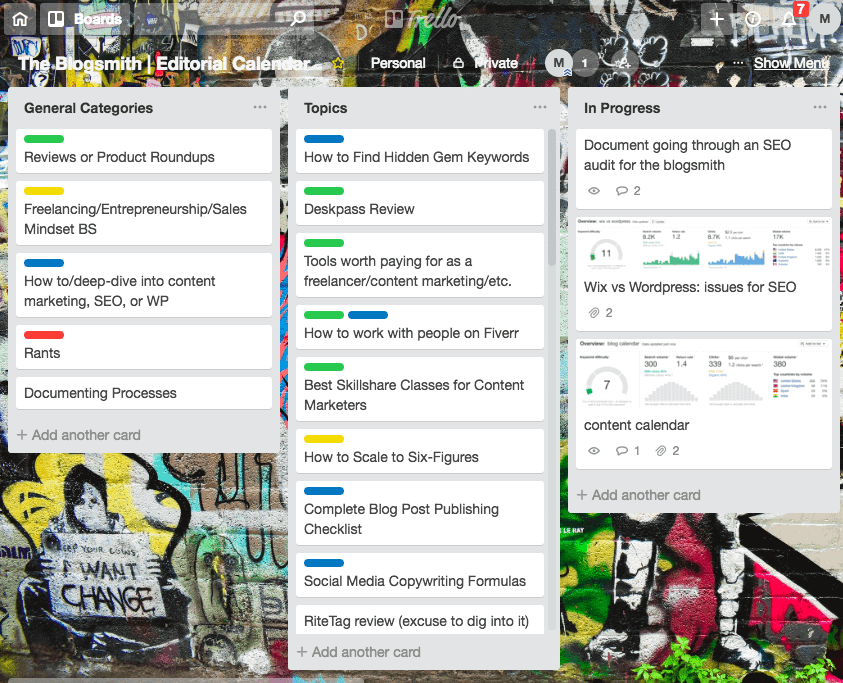 I'll customize my Trello editorial calendar template (alternative platform options available upon request) for your blog publishing process.
Step #2: Determine Blog Categories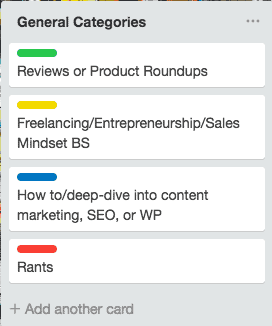 Together, we'll define the blog categories that make the most sense for your blog, based on your company's expertise, voice, and the buyer's journey.
Blog Calendar Service: FREE with Purchase of Writing Services
My blog calendar service is $999 for 1 year of article briefs (1 per month). Payment upfront is required BUT if you purchase my SEO content writing services,  you can apply your blog calendar purchase as a credit.
When you work with me, that's the same price as getting 4 – 1000 word SEO blog posts at my byline rate.
Step #3: Conduct Keyword Research

I brainstorm ideas and flesh out the ones I can substantiate with keyword research. I don't suggest a keyword unless I think you can realistically rank for it. Supportive data from Ahrefs is included.
Step #4: Create Actionable Briefs
My blog calendar briefs include actionable data such as:
Suggested blog category
Suggested title
Primary/secondary keyword ideas (with keyword difficulty/monthly search data)
Research/external link ideas
A multi-sentence topic brief
A feature image
See For Yourself: Recently Published Client Pieces
Blog Calendar: 1 Year of Blog Ideas
Package includes 2 article briefs per month. Lower or higher quantity packages also available. Apply cost as a credit for my SEO content writing services.
Keyword Research
Topic Briefs
Royalty-Free Feature Images
One revision
Get in Touch with Maddy Osman about Blog Calendar Services
Let's chat about your blog calendar needs.
Quick question about my blog calendar services? Feel free to use the form below!
Keep in Touch!
I send out a weekly content roundup incorporating the same articles I follow to stay current in the industry. I also share some of the pieces I'm writing for clients like Search Engine Journal, Sprout Social, and 99Designs.
I would love to connect with you online! I'm very active on LinkedIn, Twitter, Instagram and Facebook.