Lessons from 52 Weeks of Reading / Goodreads Challenge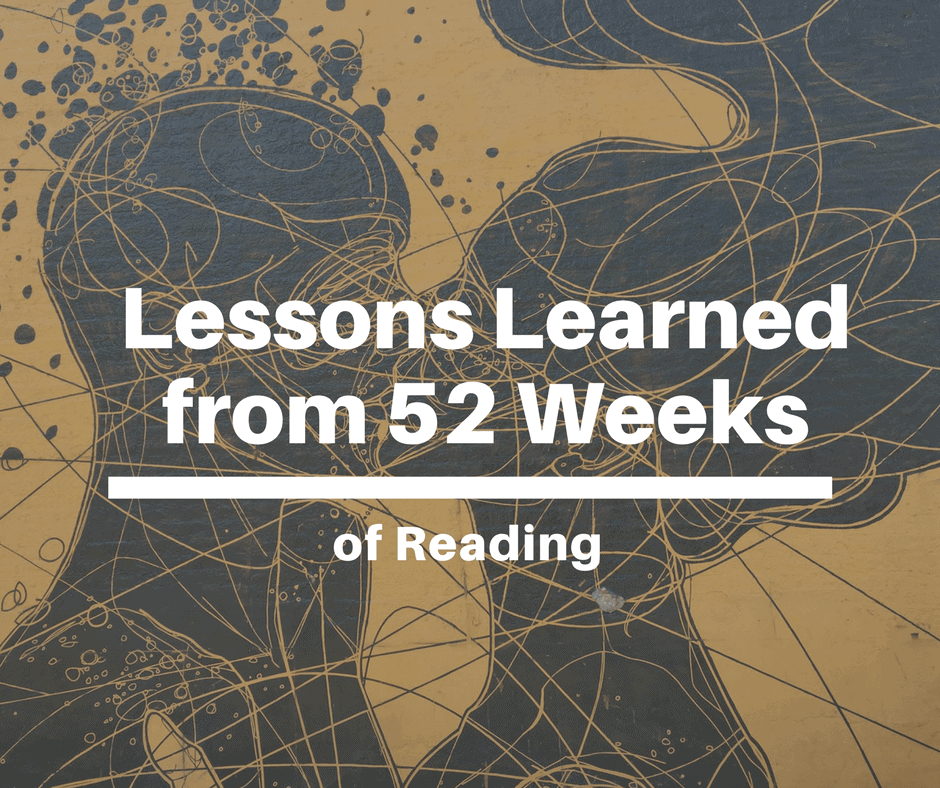 Please note: I've added affiliate links to this post in an effort to profit from my passion for reading. In most cases, I've linked to the Kindle edition of a book—which I consider as the most convenient and affordable. In some cases, like with some of the older books on this list, the print version may be a better deal (and if that's the case, I've set the link accordingly). In either situation, pay attention to grab the best deal!
Every year, I read: a lot. 52 books or one book per week, to be exact. This number sometimes fluctuates but never by much: I seem to find the optimum number of books I can comfortably fit into my life.
To keep me motivated enough to keep pushing forward to hit my goal each year, I use Goodreads, essentially a social network revolving around the books people read. Goodreads makes it easy to track progress in a personal reading challenge, letting you know whether you're ahead, on schedule, or behind.
I read probably 70% non-fiction books/30% fiction but my ideal ratio involves reading one fiction and one nonfiction book at a time, perhaps in different formats (audiobook vs paper book, for example).
Here's my complete Goodreads challenge for 2017, if you're interested. In many ways, these books define the story of my 2017: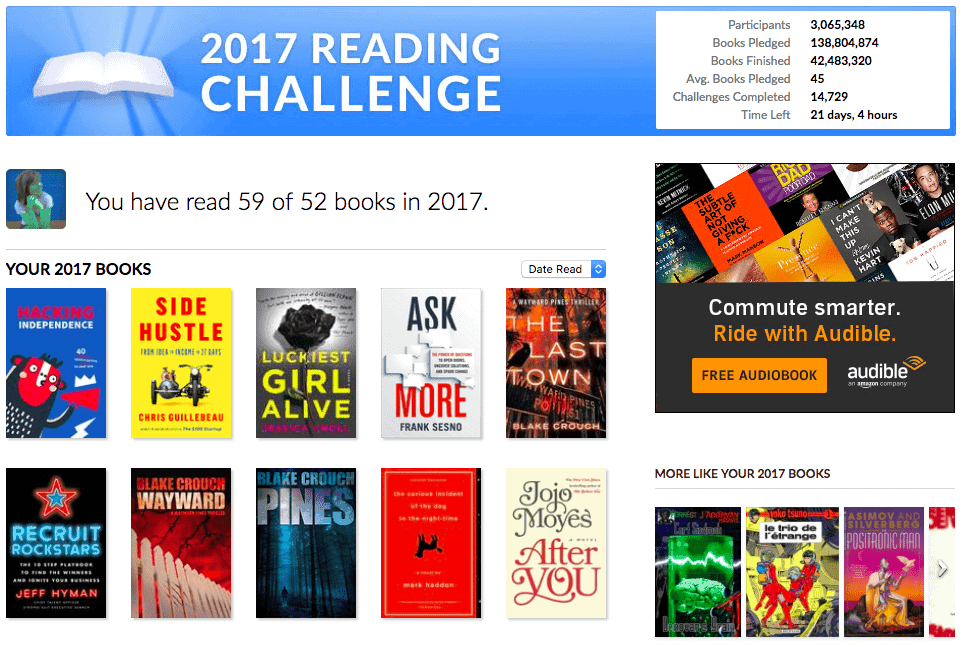 In order to get the most out of a book, I find it necessary to reflect. With this in mind, here's what I learned from 52 weeks of reading, logged as a Goodreads challenge.
Jump Ahead to a Specific Section: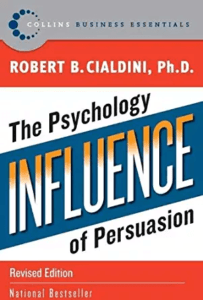 This was truly the ideal book to start off the year with. As someone who considers herself a marketer since the beginning of college, it's surprising that it's taken me so long to get to this essential book on understanding what motivates people to act in certain ways.
If you do any type of marketing and haven't yet read it, make sure it's the next one on your list. Recalling the principles discussed in The Psychology of Influence helps me to justify decisions made on behalf of my own brands and clients. To give an example, whenever I'm writing website copy, I always carve out a space for a testimonial—necessary digital social proof for getting more clients (you'll find 'em on my own service pages, too).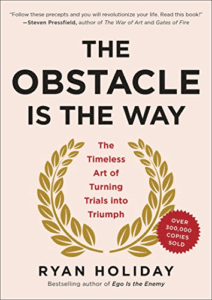 You'll recognize Holiday's name from industry bestsellers like Trust Me, I'm Lying and Growth Hacker Marketing. Holiday was the Director of Marketing for American Apparel, but don't let that distract you from his insightful takeaways about business in general.
The Obstacle in the Way is a book about mindset, giving the reader many opportunities to muse about situations where people have overcome insane challenges to come out on top. If you're feeling down about where you're at in life, this would be a good book to help you take charge of the situation.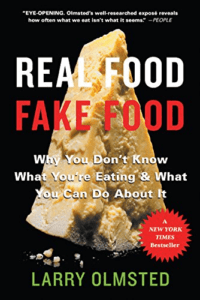 This book could've really ruined me for dining out (or dining in, due to some circumstances described in the book) if I wasn't such a fat kid at heart. Real Food/Fake Food really ruins your appetite for a lot of common food items you probably have around the house, or order frequently at restaurants, one chapter at a time.
In most circumstances, it presents a possible fix, though you'll have to shell out more money or travel to certain parts of the world to take advantage. Prepare to be disillusioned, but in a way that won't completely change your current habits.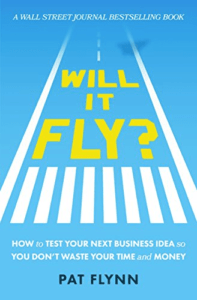 Pay Flynn is known by many online business people as the king of affiliate marketing. This book is all about testing a concept. I read it because this year, I've focused on course creation: creating an email course for my website, a short course about creating a kick-ass blog post for Skillshare, and I'm now polishing off a course about building a website with WordPress (and understanding the dashboard) for beginners.
The book gave me a lot of ideas for developing my courses and testing them with my target audience.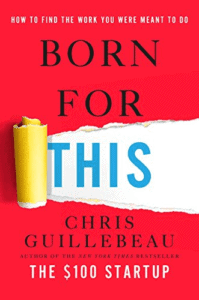 There were many points during this book that didn't 100% apply to me because they talked about career advancement within a corporate world.
As a freelancer, I'm the boss and I set the rules—which means I'm in charge of my own career advancement. That said, I loved the message of the book, which was all about helping people find the type of job that truly fulfills them.
This wouldn't be the last Chris Guillebeau book I would read this year… more on that towards the end of this list.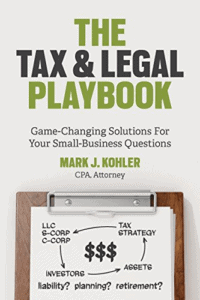 Look, I can already see you rolling your eyes. This wasn't a pleasure read.
A fiscally-minded uncle recommended it to me for figuring out an ideal business structure for tax purposes. It reveals all sorts of interesting strategies and techniques for reducing your taxable income through the strategic structuring of various business entities.
Because of this book, I decided to change my newly formed LLC into an S Corp (Pro tip: you can do that after the fact, but I think it has to be within a year of forming the LLC).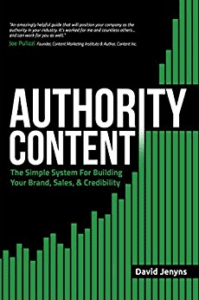 I gave this one a 3 star rating while marking this as complete on my Goodreads challenge, which I almost never do—and now I'm thinking I was being overly generous.
Most books have redeeming value but this was just super basic and short. If I learned one thing, it's that there are a lot of different ways to create high-quality content and repurpose it without a whole lot of additional effort (although that's essentially how this book was made, which isn't the best example…).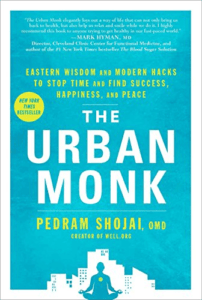 I appreciate that this book was about "accessible" meditation and self-care. That said, I feel like at least a third of the subject matter fell flat on me because I'm not super into this kind of spiritual mentality. Regardless, it was an interesting break from what I normally read.
The lesson learned? You have to shake things up every once in a while in order to grow.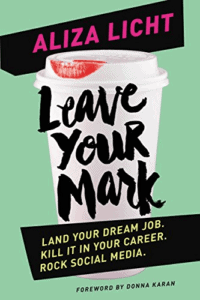 Attention high school guidance counselors: have this book on hand! I wish I would've read this book in high school because Licht has so many awesome insights about rocking your career like a pro. It's the context in which she presents these tidbits and her early years as a student and professional that make it a truly compelling read.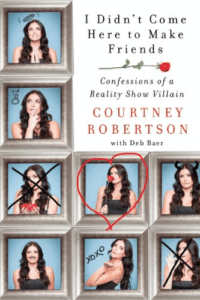 Based on this book and the one that preceded it, you might venture to guess that 2017 was a year of memoirs for me. In some ways, it was the first time I really gave this literary genre a try.
At any rate, this book was chosen due to my mild obsession with The Bachelor. I actually hadn't seen Robertson's season but found it on Amazon Instant Video shortly after finishing this book. Comparing the "villainous" Courtney as presented by reality TV to the witty writer of this book was an interesting exercise, indeed.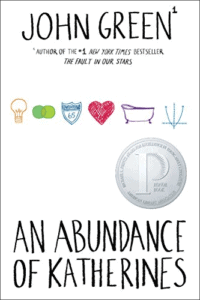 I'll preface this by saying that I really enjoy John Green's writing. There was nothing super significant about this book other than the fact that it tipped the scale for me to consume primarily audiobooks (versus paperbacks or Kindle books). I had just signed up for Audible's Daily Deal email, which notifies you of one book per day, usually $5 or less (this one was $3.18 with tax). This was the first book of many that I would purchase and listen to as a direct result of just one of my many email subscription in 2017.
The book was OK—not Green's best work, but entertaining enough. I don't know if I can definitively say there was a lesson learned as a result of reading it besides the fact that audiobooks are worth investing in to help me read more books as a part of my Goodreads challenge.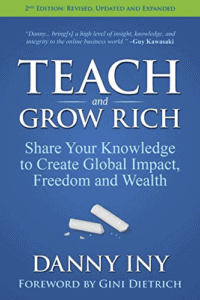 Not a lot sticks out to me about this book in retrospect. I remember picking it up because of my course creation goals this year.
Overall, I don't have a lot of takeaways—at the point of reading this, I had already learned some things about course creation. So, I would recommend this book as good guide for someone completely new to course creation.
Lesson learned? Read the Table of Contents before investing to see if a book offers new insights or skills.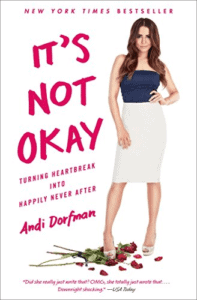 There are several books on this list that I'm positive you'll think I'm such a freak for reading, and that's ok, I don't care. If you can't read for fun sometimes, you're not doing it right.
Anyway, this book was interesting in that it's from yet another Bachelor contestant-turned-author (who then became the next Bachelorette). An interesting aspect of this book is that it doesn't really dwell on the author's time filming the show.
Instead, it's a story told in flashbacks by the author and the winning Bachelorette contestant competing for her heart (but really for the opportunity to sell Fit Tea) and their break up. I'm thinking it would be a great read for someone who just went through a breakup of their own. But I confess that I read it since my guilty pleasure is trashy TV.
I love watching Shark Tank with my mom whenever I'm relaxing with the family at home. She gets so worked up when an entrepreneur is about to get stiffed in a bad deal or when they're about to pass up an actually great opportunity to work with one of TV's favorite Sharks.
The Power of Broke is told from the perspective of one of the Sharks, Daymond John. In a case studies-esque fashion, he takes us through the stories of several hustlers (including himself!) who didn't have much access to startup capital—but that didn't stop them from building insanely prosperous brands.
Lesson learned? It's a good kick in the butt if you need some motivation to get back in a hustle mindset.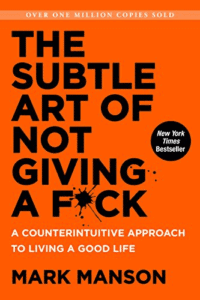 Do you care too much about what people say and do? This book will rescue you from self-doubt and conjecture, then shake you up for even worrying about them in the first place. It's an easy read if you're looking for a quick attitude pick-me-up.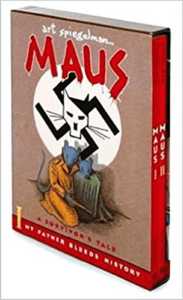 These are the second (and third) books on my list that I can't believe it took me until now to read. My best friend got me these for Christmas last year and we both have similar taste when it comes to reading.
Stories about the Holocaust are so hard to read, yet so important to experience because we can never let something like that happen again.
The fact that these books were graphic novels was a nice reprieve from the standard text-based book format that I'm more familiar with. You could definitely read through these books quickly but I'd recommend taking the time to really digest every detail. Younger adults, and those who are reading challenged are sure to benefit from this presentation style.
As such, these books are best read in their intended form—as paperback graphic novels.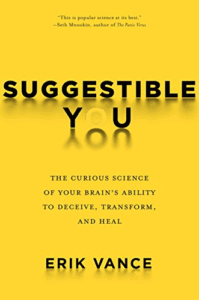 Author Erik Vance grew up with a very religious background and in many ways, that's where his interest in suggestibility originates.
The content of the book, however, focuses more on tools and theories for suggestibility outside of the realm of religion. As a marketer, the concept of planting ideas in people's heads is compelling, though certainly it remains ethically questionable.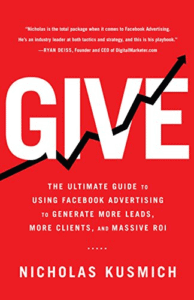 Here's another book that got a generous 3/5 stars from me on my Goodreads challenge, even though it's really more of a ⅖ star book. Seems like the author wanted an excuse to be "published" as this proved to be a super high-level guide to running Facebook ads. Personally, I have limited experience with Facebook Ads and I did not take away anything new from this read.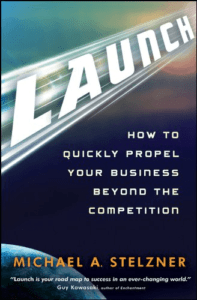 When I can find the time for it, I enjoy Michael Stelzner's Social Media Marketing podcast. His book is a little dated but his concepts for creating compelling content still ring true, years after publication.
As a freelance blogger, it was interesting to learn about his initial start in running an online business, specifically focused on writing white papers. In the book, Stelzner also details his process for building his Social Media Examiner website, now a well-respected publication that also puts on conferences for staying on top of the ever-changing world of social media.
On a general note, it's a great read for anyone involved in content marketing.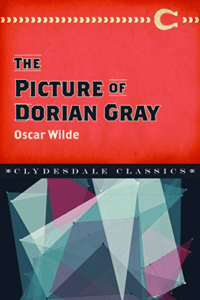 So, you're about to pick up on another reading theme for me in 2017: books I'm not sure why I didn't read in high school—whether for fun or for an assignment.  The Picture of Dorian Grey is one such book.
Though written in a narrative composed of an old English way of speaking, it wasn't hard to keep up with where this book was going. In fact, reading this book sparked in me a love of Wilde's words—he certainly was a genius.
It's reading works of fiction such as this that helps me write better for B2B and B2C clients alike.
I'll leave you with this quote as an explanation for why I'm developing a love for Oscar Wilde:
There is only one thing in the world worse than being talked about, and that is not being talked about.
I feel like even Regina George could respect that.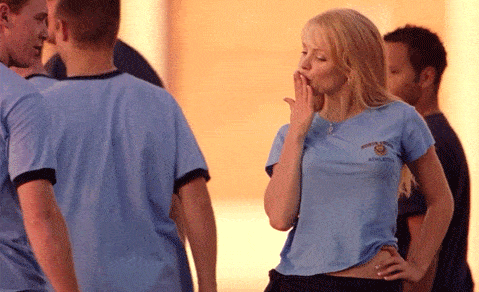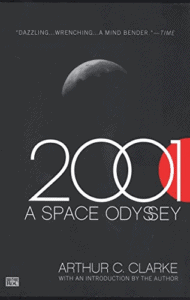 It was so long ago that I watched this movie that reading the book was like consuming this story for the first time. And it really was a cool one when it first came out—so progressive for its time. Up until this point in the year, it had been a while since I'd read a good sci-fi book, which is a shame—done well, it's one of my favorite genres.
Books like these help me to open up my mind and think without so many constraints.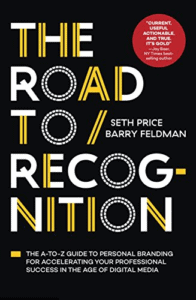 This book was a fun, light read. I'm a bit of a nerd about personal branding and wanted to see what ideas this book could give me about improving my online presence and brand authority. It delivered—with 26 separate areas of focus.
I think it would be a great gift for someone new to the workforce or just starting their own online business—or for someone wanting to assert themself as a memorable individual!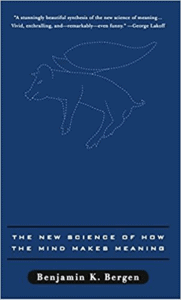 This book is a great one for word nerds or brain science nerds (or both, if such a unicorn exists).
It provides the reader with an inside-out look at how your brain processes the meaning of concrete words and even inorganic concepts. If you're trying to determine the meaning of life, you could do a lot worse than starting with an understanding of language, one of our most human of constructs.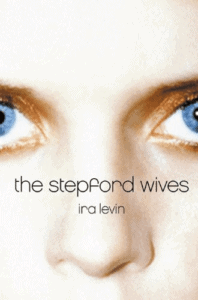 Ira Levin is good at creating creepy and compelling stories (he also wrote Rosemary's Baby). Written about a zillion years ago, The Stepford Wives was definitely ahead of its time.
It's written in a disturbingly familiar way—as if the events that unfold in the book could just as easily happen in your own life. The next time you come across a suburban housewife who seems a little too perfect, you'll get flashbacks to this tale and will have to restrain yourself from immediately vacating the neighborhood (or is that just me?).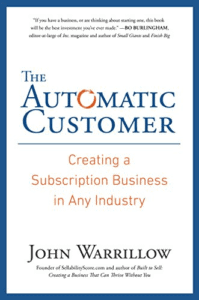 Another interesting focus of this year for me was starting an ecommerce venture: Tanks that Get Around. Tanks that Get Around was created in line with my love of travel and to represent the high level of maturity that exists in my subconscious mind.
A client of mine who runs an ecommerce business (and rocks it) recommended this book to me as something that helped him figure out the finer details and run the right numbers to build his subscription business.
Though my ecommerce business doesn't (yet) have a subscription element, this book still had a lot of applications for my main business when it comes to selling retainer services.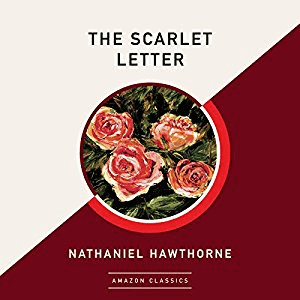 The Scarlet Letter is definitely a book I should've read in school at some point, yet somehow didn't.
This book centers around the topic of shame, yet rather than teaching people not to let it ruin them, the message seems to be more about taking it like a champ. Regardless of what you think about that, there's no doubt that Hester Prynne is a bad ass broad in colonial America.
This one makes for a super cheap audiobook.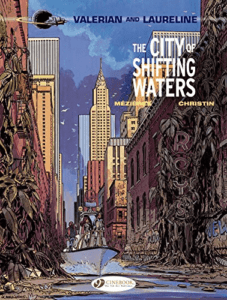 I read three of the many Valerian comics in preparation for what I thought was going to be a life-changing movie. In both cases (comics and movie), I was disappointed—neither version of the story quite lived up to the hype.
At any rate, it was interesting to compare this universe to that of Star Wars: there are many similarities, and Valerian technically came first. Definitely progressive for its time, so in that regard, it was refreshing.
But to my point about the hype and this not living up to it: save your money—you can read these for free online. Amazon even offers it free for Kindle.
29.
The Jungle
by Upton Sinclair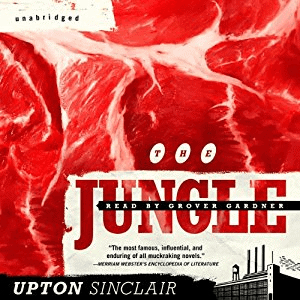 I listened to the audiobook version of this tale.
Every once in awhile, I'll listen to an audiobook when preparing a meal. There were more than a few times when I had to choose between listening to this book and having an appetite—seriously, it's that unsettling and at times, absolutely disgusting. When helping me edit this post, my mom (past English teacher, for the win) mentioned that it provides the perfect argument as to why governments should regulate food production. I have to say that I agree.
I've got to say that it's a great book to read if you're having a tough time in life, as it will seriously put your problems into perspective. This book contained the type of story that imprints on you and I know I'll never quite be able to shake it, for better or worse.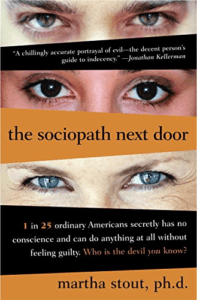 This book has me wondering about everyone. It was good fodder for some serious introspection too. You might think everyone around you is more or less normal, but this book reveals some of the profiles behind the 1 in 25 who's a sociopath. It's interesting (and terrifying) to think about the fact that some people can accurately mirror emotion without actually feeling it.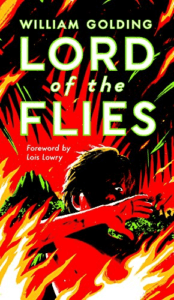 What would happen if there was a breakdown in society? This classic fictional work explores how this might look through the eyes of a group of young boys who are stranded on an island in the middle of the ocean. It starts out all in good fun, but sh*t hits the fan when the boys get scared and violent. It was a great moral tale for the ages about the importance of having the rule of law in society.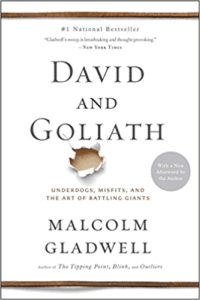 After reading The Tipping Point, Outliers, and Blink, it's safe to say that Malcolm Gladwell's writing has always resonated strongly with me. I love how he attacks his given subject for a book, researching compelling statistics and fleshing them out with stories about real events.
Like The Obstacle is the Way, which I read earlier in the year, David and Goliath details how people have found success in the most unlikely of circumstances. He goes on to explain how these seemingly negative situations are actually positives to the Davids of the world, which is especially intriguing.
Books like these all but remove excuses for failure.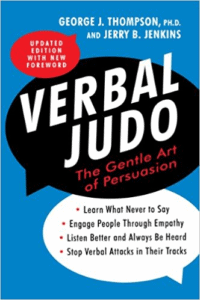 In many ways, this book reminds me of my all-time favorite: How to Win Friends and Influence People. The main difference comes down to the types of situations in which you'd use the strategies prescribed.
For example, Dale Carnegie's classic is all about getting people to see your way of thinking in a way that will help you find success in life and business. George J. Thompson's book is more about using your words to diffuse a tense situation and to bring about the best possible resolution.
The book is based on Thompson's Verbal Judo seminars, primarily attended by people in the police force. Of course, you don't have to be a police officer to finish this book with a lot of actionable strategies for dealing with people in general.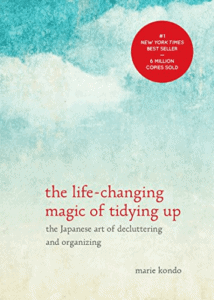 There are few that couldn't benefit from strategies to be more clean and organized. So, this book makes for the perfect quick read to provide justification for getting rid of all that random crap in your junk drawer, that one shirt that's too small but you keep it anyway, or trashing random collections of papers you've accumulated over time but will honestly never look at again.
I think the fact that Marie Kondo comes from a decidedly different culture than the one I'm used to (she's from Japan) provides for a unique but totally understandable perspective on tidying. She has a certain spirituality about the items in her life that doesn't get in the way of her downsizing when necessary and that allows her to feel genuine appreciation for them.
It might be just the kick in your butt you need to do a little spring cleaning of your own. In keeping with the author's philosophy, just make sure to give away or throw out an old book to make room before you purchase this one!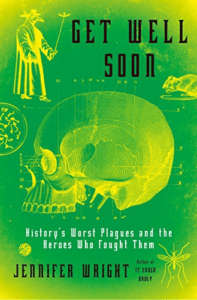 Another 3 star on my Goodreads challenge list, which at this point, you know is a red flag. It's not that the content was bad or anything like that—I actually enjoyed learning about the process behind how mass disease spreads (does that make me a sociopath?).
No, it was more about author Jennifer Wright's countless asides with pop culture references that will likely be tired in just a few years time and her annoying habit of constantly laughing at her own jokes. It distracted from the point of the book, and also dated the book from ever being able to enjoy long-term success.
I will say that it was an eye-opener about the spread of HIV, taking readers through what's known about the virus so far—and how the medical community could've done more to prevent its spread, in the book's final chapter.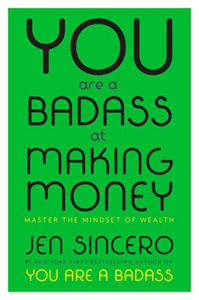 I was pleasantly surprised by how much I loved the voice of writer Jen Sincero: in terms of her both writing the book and her narration for the audiobook version.
This book is all about changing any negative, subconscious thoughts you may have about money by getting to the root of your issues. Sincero's own life serves as a basis for demonstrating her various points while adding another level of entertainment.
The principles in the books apply whether you're in a job you hate, a job that doesn't pay you enough, or even if you own your own company.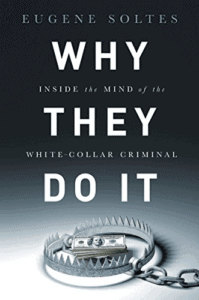 There were certain situations in this book where I honestly wasn't sure why some people went to jail while others didn't (or how it took so long for some to be punished for their actions), which is probably one of the reasons why this book exists.
It's hard to fathom how top executives making ridiculously large amounts of money each year would risk their stability for the chance at making just a little bit more, though I suspect that greed and over-sized egos are at play. At any rate, it's a cautionary tale for those about to be thrust into a position of power and wealth.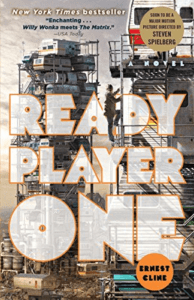 This was the first book I've read in a while that I got completely sucked into, reading through it at a rapid rate as if my own happiness revolved around finding out who would win the greatest contest of all time.
The story is told partially in "real life", but mostly in terms of the Oasis, a virtual world with endless possibilities. The Oasis is a draw for a majority of the Earth's citizens who live not far into the future, in a world that they'd rather trade out for virtual reality.
80's music, movies, and video games references dominate, but not in a way that's inaccessible for someone not obsessed with the era. If you're looking for a good book and world to escape to, this is that book.
Who's stoked for the movie?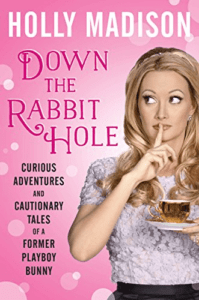 My boyfriend rolled his eyes when I told him I was reading this book, but Hugh Hefner had just passed and this book had gotten a lot of media attention even before that.
To me, books like these are kind of like reality TV—a look into someone else's crazy life that I wouldn't otherwise have. I certainly wouldn't want the same lifestyle as author/Playboy bunny Holly Madison, but it's definitely interesting to read about what it's like to be a member of the warren.
Hop on down to hear Holly Madison read the audiobook format of the book.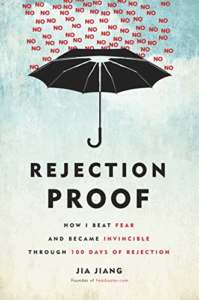 The concept of this book is certainly intriguing: a man (Jia Jiang) puts himself in 100 different situations where he'll more than likely be rejected, over a period of 100 days, to attempt to change his negative associations with rejection.
The project is interesting to follow, and Jiang shares a lot of interesting insights about rejection that can help others get through tough situations (like the fact that getting rejected in a given situation is a function of the person that you're talking to).
Though I'd say I enjoyed it overall, and learned from a lot of interesting insights about rejection for my own life, there were definitely parts that fell flat for me. An example that comes to mind involves one of his rejection scenarios: going to an ice cream shop and asking for a crazy spice ice cream creation.
To me, this seemed like a wasted rejection learning opportunity, because he has to have realized going in that the ingredients necessary to fill his request would not be available, so there's no way that the person behind the counter would have a chance of fulfilling the request. There were plenty of similar situations where I found myself scratching my head as to what the point of a given scenario actually was. Perhaps the author is into a bit of self-sabotage? Personally, I reject that approach.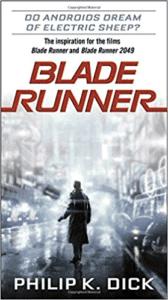 I think in the world of Blade Runner (which is based on this book), you can answer a tentative "yes" to this question, and the implications are great. If androids can dream of anything, that also suggests that they can hope—all entirely human qualities.
So if someone's job is to "retire" an android, is it really more like murder? It's an eery question pondered throughout this book and the movie it inspired.
I rushed to read this one before the new Blade Runner, also managing to fit in a viewing of the old 80's Blade Runner.
I'd recommend the paperback to help you appreciate the fact that this futuristic novel was written before Kindles existed. It's small and could easily fit in a purse or laptop bag.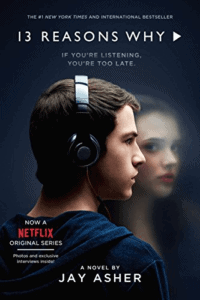 I watched the Netflix series months before picking up the book for one reason or another. I noticed this one was available from the Denver Library Overdrive and snapped it up before someone else got all the wiser. The story wasn't terribly distinct when compared to the story as told in the series but it was just as chilling listening to Hannah's tapes in audiobook form.
The lesson learned? Don't be evil (also Google's motto for corporate conduct). You never know what someone else may be going through and the more stuff that piles on for them, the harder it is to remain positive. Don't live a life where you treat people in a way that may come back to haunt you—there's no reason for it.
This one is best listened to as an audiobook, so you can hear the tapes as they were intended.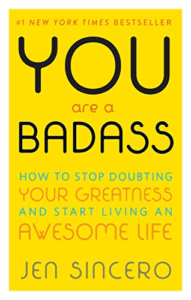 Having already read the follow up to Jen Sincero's original bestseller, I wasn't expecting a whole lot of unique insights—and I was right.
On its own, this book is awesome. Paired with the book that followed it, they're more or less slightly different perspectives on the same story. You Are a Badass at Making Money is most ideal for someone more financially sound – or successful. You Are a Badass is better served for someone looking for a non-specific dose of motivational energy and strategies to improve their life.
Sincero narrates this audiobook, too.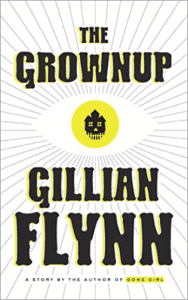 Ok, technically this one was a novella, but I'm counting it since I read plenty of lengthy books this year, and since any Gillian Flynn story is worth adding to your Goodreads challenge.
Like Flynn's other haunting tales, this story has a delicious twist that demands your attention. It would be perfect for a day with an extra-long commute or to quickly knock out during a plane ride.
The Grownup is a Kindle Single, which all tend to cost just a few dollars for the Kindle format (versus audiobook).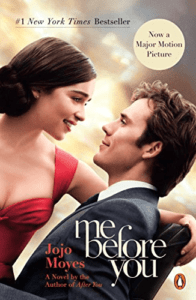 Reading this book put me in the rare situation of having first watched the movie. And I watched the movie in the worst possible situation: in the middle seat of an international flight. Note to self: next time, don't watch a movie guaranteed to cause tears during a long haul flight!
Like some other books on my 2017 Goodreads challenge list, this one's message was to find appreciation for your life exactly as it is in the moment. There may not always be a way out of a bad situation, but if you have the power to effect change—do it and don't hold back because as we all eventually learn, life is too short.
The book made me ugly cry just as much as the movie did. The audiobook is cool if you're into British accents.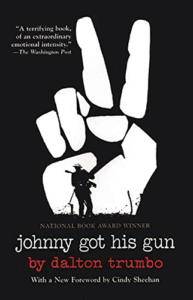 Why did I read this after Me Before You? Such a beginner's mistake. These are two books about people trapped in their own bodies after a brutal accident. I must be a masochist, because reading these books back to back has made me so uncomfortable, I'm thinking about these people's stories even when I'm not reading them.
Johnny Got His Gun is described by many as an anti-war book and I can totally understand why. The main character is exhibit A in an investigation about needless lives wasted during war. In the main character's case, he's technically "alive"—despite no arms, no legs, no face, and no ability to hear, either. The thought could make anyone squirm with claustrophobia, despair, and a feeling of rejection when picturing a grotesque yet semi-human form.
The book makes you think about how much of you would have to be taken away for you to truly lose all hope. The insights into the mind of someone trapped in their body seemingly without a way to communicate with the outside world are haunting and at times, very painful to read.
The audiobook version is chilling to listen to.
47.
Side Hustle
by Chris Guillebeau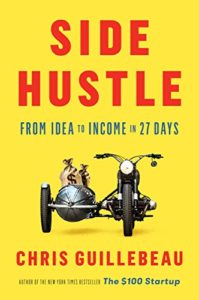 If you got this far without skimming too much, you'll recall that I started the year with another Chris Guillebeau book, Born for This. He truly is a great writer and even more so than that, a mentor to anyone who needs a change in their life. Side Hustle doesn't directly relate to my business where it stands right now (since I freelance full-time and have done so successfully for some time now) but does provide a nice process and templates for coming up with and validating new side project ideas.
I went to see Guillebeau speak and got him to sign my copy!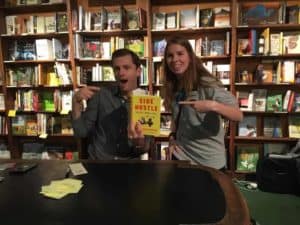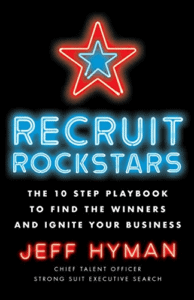 I read through Recruit Rockstars as part of a client project.
Recruit Rockstars is certainly positioned as a book to help other recruiters, HR departments, hiring managers, and so on, but I think there are also plenty of practical applications here for someone who's ready to make a career change. Understanding how people are hiring—whether they're still focusing on traditional practices or Jeff's practical updates (both touched upon in Recruit Rockstars)—is necessary to confidently prepare for the job-seeking process.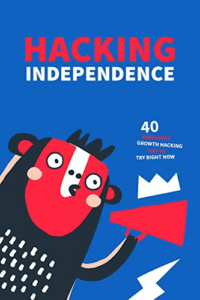 Hacking Independence is technically a free ebook, though AND CO also produced a print version that I picked up for bragging rights. I contributed one of the freelance hacks (the SEO hack near the end of the book) and was excited to be asked to contribute to such a fun publication by one of my favorite clients.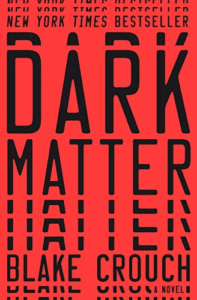 I initially picked up this book as the result of a recommendation from a friend who shares a similar taste in books. I was hooked almost immediately thanks to the rich descriptions of Chicago. I live in Denver now but am still very connected to my previous home.
Anyway, the book is a series of twists and turns that first focuses on the question of whether or not the main character is insane, then once that question gets answered, if he'll be able to get himself out of an impossible situation. The story that follows is just as enthralling as one of my other favorites this year—Ready Player One.
Author Black Crouch also wrote the Wayward Pines trilogy, which I also managed to devour before the end of my 2017 Goodreads challenge. It's now a 2 season tv show on Fox. I recommend reading the books and watching the tv show—they're both decidedly different in a way that keeps you intrigued. Like Dark Matter, the story centers on the narrator questioning his sanity and an impossible situation in which he's found himself.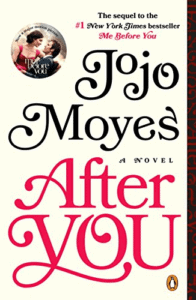 All I really want to say about this book, the sequel to Me Before You, is that sometimes it's better to leave well enough alone. I wish I hadn't read this and preserved the ending my mind originally created for the main character.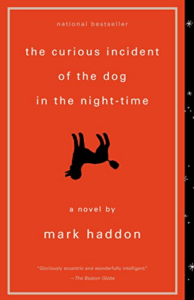 Here's another book I'm not sure why it took me so long to read as it has enjoyed so much critical acclaim and tends to be something people read in school. I was really intrigued by the perspective, an autistic teen whose brain works a lot different than mine. Books and other media like this help us understand people who's behavior and actions may confuse us, so they enlighten.
The Good Doctor is a TV show I've been watching recently that helps me to develop this perspective.
But That's Not All: The Rest of My Goodreads Challenge
I'm publishing this in December, which means that my 2017 Goodreads challenge isn't yet over. Here are a few other books I've read this year that I'm counting as part of my Goodreads challenge:
But I won't bore you with the details. After all, I've already gone through a bunch of lessons learned from what I considered as the best books I've read during this year's Goodreads challenge.
Lessons from 52 Weeks of Reading / Goodreads Challenge
If you're looking for an easy and rewarding New Year's Resolution you have a chance of actually completing, I'd suggest setting an easily trackable Goodreads challenge.
You don't have to read one book/week—you should instead take an honest look at how often you're reading right now and set a stretch goal based on that number. Every year, you can readjust your Goodreads challenge as necessary based on what's realistic.
Every book I read this year taught me an interesting lesson, whether through an explicit example or more subtly through a fictional story. Some books taught me how to improve my business, others helped me to adjust my mindset to one more joyful and productive, and others provided an all-encompassing escape from the stresses of daily life.
As Marie Kondo (author of The Life Changing Magic of Tidying Up) would recommend, I'd like to thank each book for its place in my life, but now, I'm moving on to make room for more stories and lessons. Remember, audio books count too and may be a practical solution for your lifestyle.
What were your favorite books of 2017 and resulting lessons learned? Did you do your own Goodreads challenge? Leave your insights and suggestions for me for 2018 in the comments below!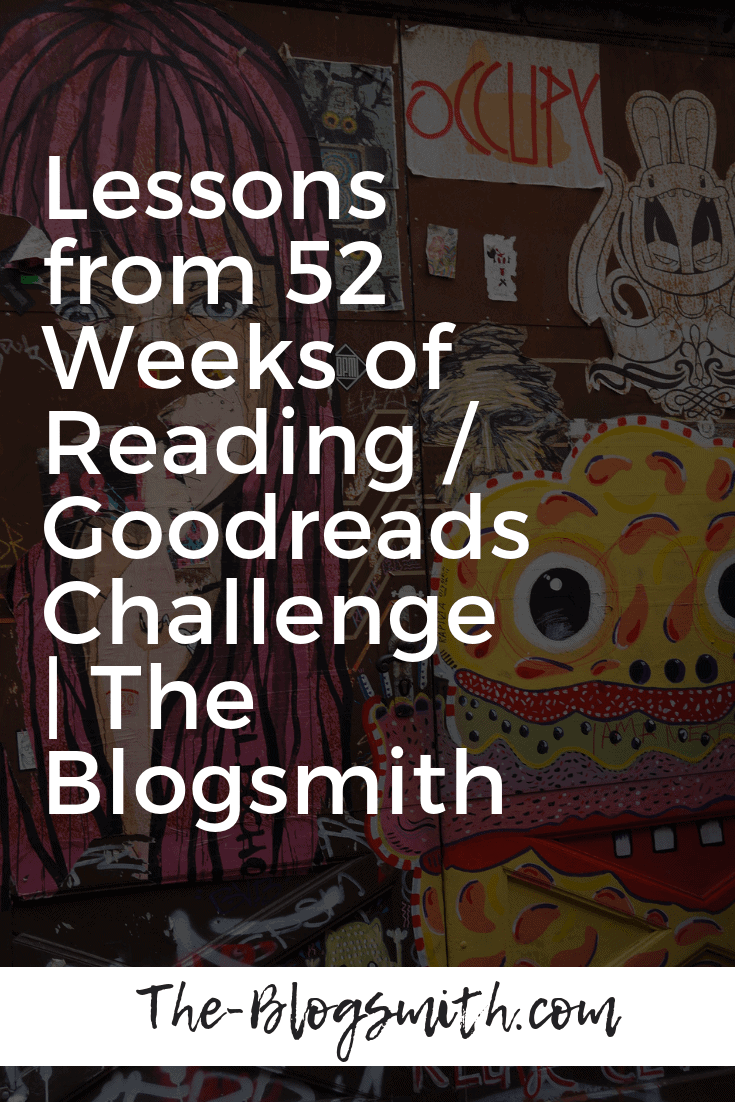 ---
Also published on Medium.