Lead Marketing: 67 Ways I've Generated Business Leads Online (& Off)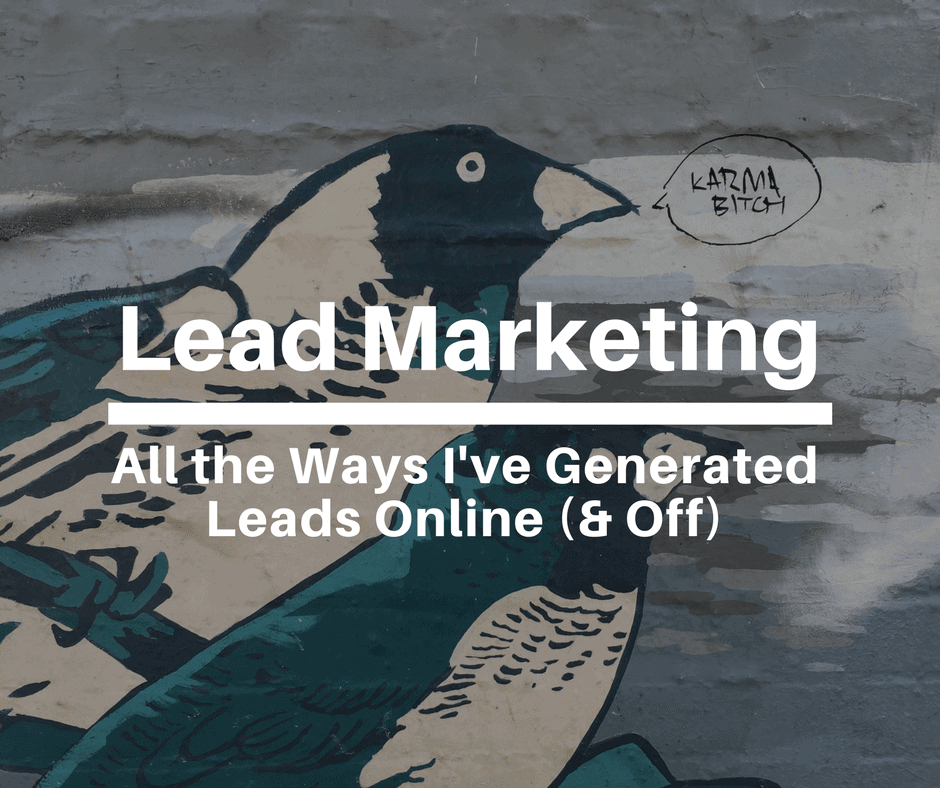 Updated 12/29/19. Please note: this post may contain affiliate links.
My own definition of success involves making enough money to live comfortably with some money left over to explore the world. It also revolves around achieving my ideal working conditions: building a business in my PJs after getting a full night's sleep. It's the little things.
With a background in sales, entrepreneurship in the family, and a passion for content marketing, I built The Blogsmith into the type of business that helps me to hit all the critical dimensions in my definition of success.
Inevitably, your definition of success will differ from mine. But if it matches on any dimension, you'll appreciate this detailed list of all the weird, random, and even textbook ways I've generated business for my company.
By the end of it, I hope you'll realize that there's an opportunity to make money around every corner if you know how to make it happen. 
Jump Ahead to a Specific Section:
67 Ways I've Generated Leads Online (& Off)
1. By just doing a good job.
This simple focus has been enough to score recommendations to many clients' business partners, friends, or other departments within the company with content needs. Referrals are a huge reason why I don't have to spend a lot of time on business development.
2. Creating a personal brand.
By being perceived as an expert and building influence in your industry, you'll attract more qualified leads online. There's no single way to use this lead marketing tactic to generate leads online and off but it's important to be planning those unpaid personal branding efforts into your regular work day.
3. Driving results through the strategic creation of SEO content.
Good SEO traffic is a marketing gift that just keeps giving with the proper setup and a touch of consistency.
Based on my work with this website and my ecommerce experiment, Tanks that Get Around, not to mention the many clients who hire me specifically for SEO content writing, this lead marketing tactic has generated a lot of business for all parties!
4. Branching into ecommerce.
A new (but completely unrelated) way I'm generating business is in the realm of ecommerce. Along with my significant other, I run Tanks that Get Around. I have high hopes for it the more time I spend on it!
5. Regular attendance at local networking events.
I got really comfortable with networking back in my sales days.
In Denver, I play an organizer role in two networking groups: BMA Denver and Freelancers Union. By being an organizer and regular attendee at events, I've built a lot of solid relationships that have lead to lucrative client projects.
6. Attending industry conferences.
For many years, I attended Social Brand Forum as a spectator but the year before last, I created promotional social/blog content for it, then attended as the official live tweeter.
Not every conference generates business but many do result in solid industry relationship building and to me that's just as valuable as a new client—if not moreso. Oftentimes, there will be at least a couple of sessions also worth attending to level up on industry knowledge and maybe even grab an idea for some future blog posts.
7. Publishing bylined articles for clients.
I've written long enough, for enough solid industry publications, that clients actually want me to be publishing articles under my own name. This really is a win-win situation, as I also usually get an author bio where I can sell my industry experience, as well as a link back to my portfolio.
I can't tell you how many times someone gets in touch to talk about my SEO content writing services while referencing an article of mine that they've just read—this really is a top lead generator for me alongside referrals.
8. Referrals from friends.
At least twice a year, without fail, one of my friends will get in touch with another friend or small business they know in need of a simple website. It's definitely not a service I make a big deal about offering but I like to keep my WordPress web design skills sharp and welcome these projects with open arms.
I also have several friends who do marketing work and regularly need writing help — like Jeromy Sonne, who I help with various Manning Law projects.
I'm actually building a course that I hope will empower even the most overwhelmed by WordPress to build the majority of their own WordPress website themselves.
9. Subcontracting or passing on projects from other freelancers.
And likewise helping connect others with projects within my network. It has to be symbiotic to work.
10. Trades with other freelancers.
Think of this not necessarily as creating new business opportunities but as building your business in a way that allows you to preserve your budget for non-negotiable expenses.
I've found many opportunities to trade with my freelancer friends. One of the most recent examples is by auditing Cody Sowa's website for SEO/conversion opportunities. In exchange, he helped create some awesome photos for Tanks that Get Around.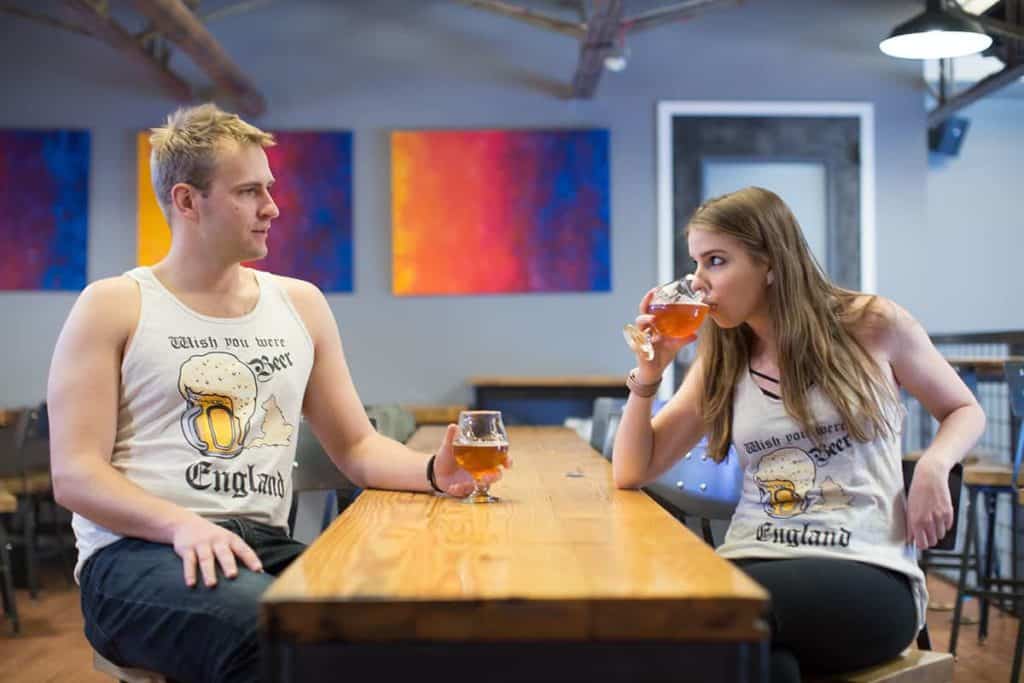 Success isn't about working yourself 'til you die to make as much money as you can. It's about finding a balance where you make enough to achieve your goals in a way that leaves time for, you know, not work. And part of finding this balance lies in smart business budgeting.
11. Applying to publicly posted gigs on job boards.
I don't do this quite as much as I did last year—my bylined articles are doing a great job of attracting my ideal client straight to me. And truly, I've learned that you can command a higher rate when people are coming to you—not the other way around.
But websites with freelance writing job boards like Problogger and the Morning Coffee Newsletter helped me stay busy with some good work when I was still getting started. Paying attention to these job boards was actually how I landed a gig writing for Sprout Social!
12. Subscribing to/setting relevant job email prompts.
It's so nice when generating leads online refers to relevant leads coming straight to your inbox. I've applied to (and gotten) so many jobs as a result of this lead marketing tactic (complemented with a solid email pitch).
Regardless of your industry, you can steal my Craigslist hack: an IFTTT applet that automatically sends you new Craigslist postings for any search you're interested in (I've got one on "content writer" in a few major US territories).

There's definitely some junk to sort through but I've landed a lot of decent clients through Craigslist.
13. Leveraging experience with one client to work with another.
For a brand new writer, this is your classic Catch-22: you can't get a great job without experience and you can't get great experience without a job.
If you're a freelance writer desperately looking to build your portfolio with great samples, try:
Volunteering to write for your current employer's blog (ideally, you'll plan your exit well before making it!),
Starting your own blog with content that shows a grasp on the latest in your industry.
Guest posting on high-authority industry blogs
An example of me using this lead marketing tactic to my advantage was when I leveraged the experience I had writing for Choose Chicago to write for another Chicago-focused blog: UpOut.
14. Guest posting on high authority websites (like Search Engine Journal).
You don't need to be a content marketer to benefit from this lead generation tactic. You just need to have a good idea that's appealing to your target market, as well as an understandable method of online communication.
I'm not compensated for the pieces I pour many hours of research into for Search Engine Journal but I can directly credit this lead marketing tactic for some of my biggest and most exciting client projects to date.
15. Industry podcast features.
As with my other personal branding efforts, sharing insights and advice on relevant industry podcasts helps me to grow my perceived expertise and influence.
16. Being an active WordPress community member.
Doing this has led to many client projects, albeit indirectly.
In one situation, WordPress web host Kinsta found my mega-guide, 150+ Resources to Start an Online Business. They got in touch to let me know that they'd featured it on their email newsletter, then we started talking about content.
Today, I regularly create in-depth WordPress content for their blog!
17. Speaking at conferences like WordCamp.
WP SEO Hub is a new client thanks to my "How to Write a Kick-Ass Blog Post" talk at WordCamp Denver. It continues to bring in the bacon for The Blogsmith LLC since I made it into a premium Skillshare class.
18. Helping run an event.
I've already talked about how running Freelancers Union has helped me make freelancer connections but there's yet another event that resulted in work for The Blogsmith.
When I lived in Chicago, I helped fellow WordPress community member Scott Winterroth organize and emcee his event "Bloggers Meet Startups". Doing this led to a blogging gig with Winterroth's Content Academy and a short-term website UX consulting project for Paris 312.
19. Being a WordCamp organizer.
After going to several WordCamps, I decided to get involved with the organizing team. This was a good idea for so many reasons—especially the ability to connect with so many members of the WordPress community in a collaborative function.
20. Being the co-founder and organizer of Freelancers Union Denver.
I'm always telling people about how important it is to connect with other freelancers. There are so many opportunities for working together on projects or sending referrals back and forth. And if you become super busy, it can be nice to know that there's someone you can call in for backup as a project subcontractor.
I've gotten to work on so many cool projects strictly because of referrals from other freelancers—and likewise, I've pulled in freelance friends on projects where I needed help. It's the perfect symbiotic relationship—one that you can build with others at monthly Freelancers Union events, like the one I host on the first Wednesday of the month in Denver.
21. Networking at WordCamp.
This could also be "networking at any conference". But when I went to WordCamp for Publishers, networking with the sponsors was a direct lead marketing win.
I went to chat with the Pagely people, letting them know that I had applied to write for them, and they followed up with me soon after for a regular blogging gig!
22. Creating classes on Skillshare.
I'm trying my hand at course creation in a micro sense. On Skillshare, classes go over best when they're right around an hour in length. I'm compensated each month based on how many premium minutes are watched.
But that's not all: Skillshare can also help with lead marketing. I can convert students into email subscribers (and future clients) by leading them back to my website to exchange their email for a downloadable PDF of class resources.
23. Reminder advertising on LinkedIn.
LinkedIn has high reach, so it's worth creating a regular social strategy for staying top of mind (and optimizing your profile for industry and role-specific keywords). It's also worth scrolling through when you're taking a quick break from work—this is precisely how I scored a gig writing a bunch of articles for AAA.
Because LinkedIn is high reach, you can also piggyback off someone with higher reach than you by commenting on their status updates. I actually got another client, a capital advance business, by arguing with a popular lawyer in LinkedIn.
24. Responding to posts on LinkedIn looking for a writer.
I brought it up above but it's worth talking about separately as another LinkedIn lead marketing tactic to generate leads online. Recently, this is how I started writing for Infront.
Just going through LinkedIn once a day for 15 minutes has helped me find multiple opportunities like that. It certainly helps to have an audience in need of content writers as your connections.
25. I've also gotten some leads from Twitter.
Michelle Chicago and Michael Samm are two realtors who saw the Chicago content I shared on Twitter and checked out my writing for Choose Chicago. Both hired me to create Chicago content for their real estate businesses!
26. And even Instagram has been known to bring in a lead.
When I could get away with using Archie, my bot liked a post on someone's account who ended up hiring me for a project. The post hadn't even been about what I do—but my bio told that story for me.
27. When clients publically tag me in conversations where people ask for a "good content marketer".
Pagely connected me with Scott Bolinger recently and I've already written a few posts for his business, Holler Box!
@MaddyOsman and @iamjennialways are 💯 !

— Pagely® (@Pagely) February 1, 2018
28.  Using Fiverr to my advantage.
Fiverr gets a bad rap as a marketplace of bad clients. That's not true—I've both purchased and sold gigs on Fiverr and I've worked with a wide spectrum of people: many very agreeable to work with.
It probably helps that my biggest gig is on their Pro Marketplace—where I'm vetted and promoted alongside the elite—like Jerry Media!

29. Using HARO to get backlinks and attention.
This isn't necessarily a direct lead generation tactic—or is it? I use it for the purpose of building backlinks for my websites and clients. They send a 3x daily digest of reporters looking for expert contributions, organized by industry.
One time, it actually did directly generate business for The Blogsmith, though. The person on the other side of the HARO query was Katy Perry, who managed me during my time spent writing for AND CO—she even invited me to contribute to one of their awesome ebooks!
30. Having an opinion.
Again, not all of these lead marketing ideas will immediately result in generating leads online. So I want to balance out this list with long-term brand building strategies. One is to simply stand for something.
More and more recently, I've been getting a little political and strong-willed in the things I write about (especially on my own blog) and I think it's helping potential clients to see me as someone who can produce something worth reading—not just more of the same.
31. Participating in Twitter chats.
This is another indirect lead generation tactic. Back when I worked at Social Media Beast (now PowerPost), I wrote all about how Twitter chat participation helped me grow my following.
Today, I have 11k+ Twitter followers and clients see it as an added bonus when I tweet the articles I write for them to my digital marketing/WordPress followers.
32. Creating a Pinterest "SEO" Strategy.
Ok technically this is a lead marketing strategy in progress but I have high hopes. I wrote all about how Pinterest is a hidden goldmine of targeted traffic for Kinsta and am slowly but surely using it as an organic promotional tactic for Tanks that Get Around.
I actually put my boyfriend in charge of all things Pinterest and I think it's safe to say that this was a good decision. Look at these numbers from just the past 30 days!

33. Accepting sponsored posts.
I'm constantly toying with spending more time on my blog project, Urban Cheap Ass—but right now it's just not a focus. Nonetheless, I have generated new business for myself by being approachable about sponsored posts.
If you want to make money this way, make sure that you have a 'Media' or 'Press' page where people can learn more about what it would be like to work with you—and who's already vetted you.
34. Offering to teach people what I know, applied to their business, one-on-one.
I have a page on my website about consulting but I've never advertised it. Nonetheless, I periodically get requests from people who need a little coaching.
One of the best lead marketing lessons I can give is to remain open-minded about the type of services you offer. Don't immediately turn down something that you don't typically do.
Accepting slightly out of the box projects can be a great way to add some variety to your offerings and pick up some new skills.
35. Strategizing for affiliate marketing.
Affiliate marketing isn't really related to lead marketing but it is definitely related to making money for The Blogsmith. Siteground, Skillshare, Appsumo, and Skyroam are a few of my most lucrative revenue-generators in this regard.
Though the scope of the topic is way too deep to dig into here, my advice is to pick a few products you really believe in and show people the good and the bad about that product, from your unique perspective. Authenticity is key but disclosure (that you'll be paid if readers purchase through your links) is just as necessary.
36. Joining relevant Facebook groups.
Facebook groups can become a rabbit hole for your time but it's worth joining a few relevant groups to seek support and accountability once you go out on your own.
My Facebook group involvement is attributable to at least two great opportunities, off the top of my head.
The first? Working with Kimberly Crossland, right before she became a mom! I've worked with her for a least a year now on a variety of projects and am grateful to have met her when I did—she's one of the best freelancers I know.
The other was an interesting series of one-off projects for Bublup, creating "rolls"—kind of like a curated Pinterest board. Check out this one about SEO for beginners.
37. Befriending fellow freelancers whose clients are hiring.
After working together on daily content every other week for BLR, I became friends with Liz Alton, a fellow freelance who writes about digital marketing and technology.
This relationship eventually led to her hiring me to design her website, she's always available when I turn to her for advice, and she's also referred me to clients of hers who need more writers. Freelance friends are the best!
38. Referrals from contractors.
Every once in awhile, the people who work for me pass on leads! This was the case when my then-intern Allie Barke referred me to write for her current employer, Lightspan Digital. I later referred one of my freelancer friends to help Lightspan Digital with another project they needed specialized help for.
It was good karma all around.
39. Friends tagging me in relevant job posts.
With any luck, your family and friends will want you to succeed in freelancing just as badly as you do. Sometimes, they'll scout jobs out on your behalf, helping you to generate leads online in many different places at once!
This is actually how I landed my client, Cirrus Insight. My BFF Samm tagged me in a post on Facebook where their VP of Marketing was looking for someone to help with social media. With my background in sales, I was practically a shoo-in—but I never would've known to seek it out without a good friend looking out for me.
By the way, Cirrus Insight has a lot of awesome sales productivity tools that you can use with or without Salesforce. You can give them a try for free with a 14-day free trial.
40. Friends and family who need help.
Over the years, I've gotten so much business from friends and family members who need help, especially with web design. Most of them refuse the discount I offer!
41. Joining a coworking space.
Most of the time I check out a coworking space, people are super quiet, heads down, working. For the casual coworker, you're unlikely to do effective lead marketing by simply showing up.
I landed Platform Coworking as a client in an even more convoluted way. I first connected with their team when I was an active member of Windy City Bloggers. They offered members of this group a generous free introductory membership.
I definitely took advantage and kept in touch but it wasn't until I moved to Denver that they reached out with a business opportunity. I can't say it enough. So much business happens on the follow-up.
42. Pitching the editors of email newsletters.
It all starts with subscribing to the email newsletters of companies I like. The following lead marketing tactic has really been such a gem for generating leads online in my freelance writing business.
Recently, I've also been subscribing to email newsletters for companies I'd love to write for. In many cases, their email newsletters are sent from an email address that someone actually checks. It's also fair to assume that this person is either involved with or in charge of content marketing for the company—probably a decision maker when it comes to hiring more content creators.
By replying to email newsletters—simply acknowledging that they create a lot of content, and I can help them if they want to be more effective with SEO—I've generated a bunch of leads. Jooicer is one company that I started working with as a result of this lead marketing tactic.
43. By proactively asking people to connect me with a decision maker.
Once you've built your network, don't be afraid to use it. As long as you're developing a symbiotic relationship, it's OK to ask for favors periodically.
Joe Howard of WP Buffs (now a client) is the master of politely asking people for easy favors. Since I'd cashed in a decent amount of goodwill with him, I asked him to connect me to the editor of GoDaddy, who he's been writing for. The stars aligned and I now write for them, too!
44. Constantly asking for new and powerful testimonials to seal the deal with new clients.
I always ask clients to share testimonials in the form of LinkedIn recommendations. They help my LinkedIn profile to become a more powerful optimization tool, in addition to displaying the testimonials with a public connection to the person who gave them.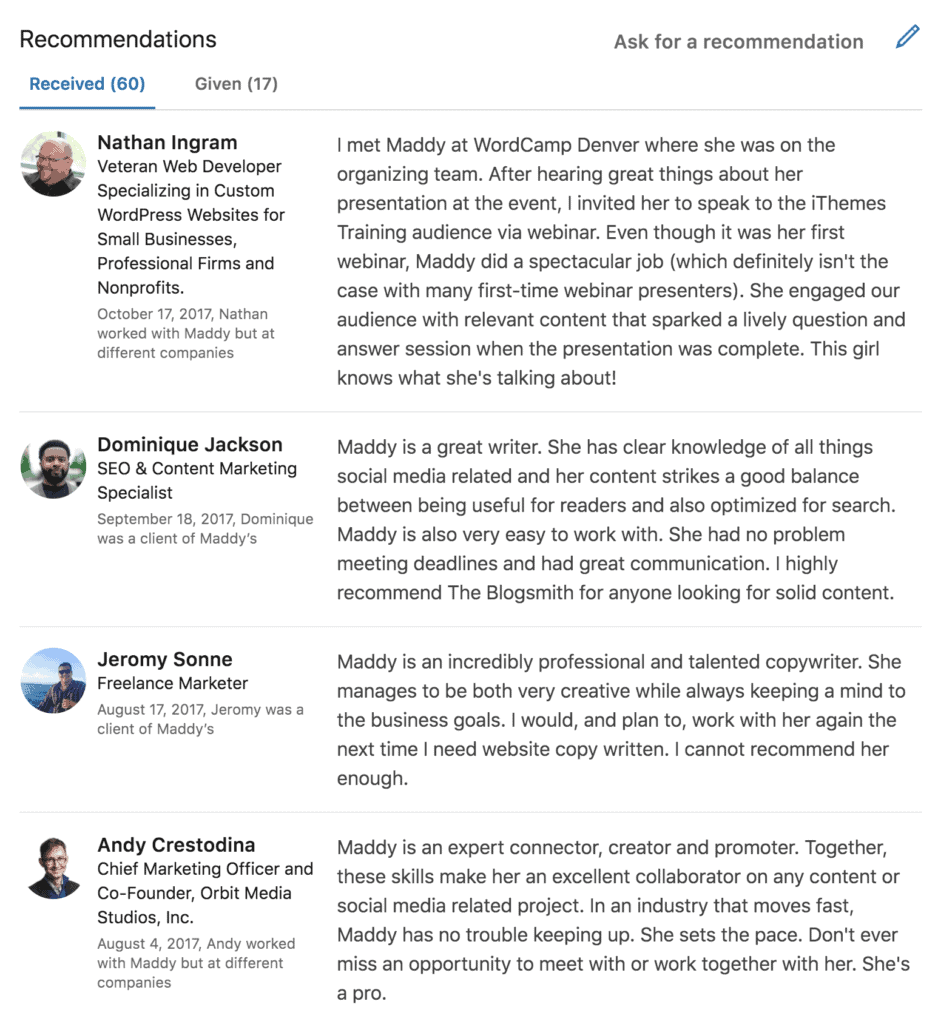 From there, I repurpose them in anything from social media posts to social proof on my website. Having these testimonials helps prospects to see the value of my offerings and pushes them to get in touch.
45. Building a funnel from bylined articles to my inbox.
I give people a discount for bylined writing because of its role in helping me generate leads online. If you want to know exactly how I make it work, you'll have to check out this article debating the pros and cons of publishing your pricing publically, for WPMU DEV.
46. Tricking LinkedIn Profinder.
Technically, submitting proposals for LinkedIn Profinder is only possible with a trial or paid subscription to LinkedIn's premium offerings. But I can get around with a little strategic research, based on the information contained within the proposal.
For example, even though LinkedIn doesn't share his name, I can certainly search "A Smarter Way to Learn" on Google…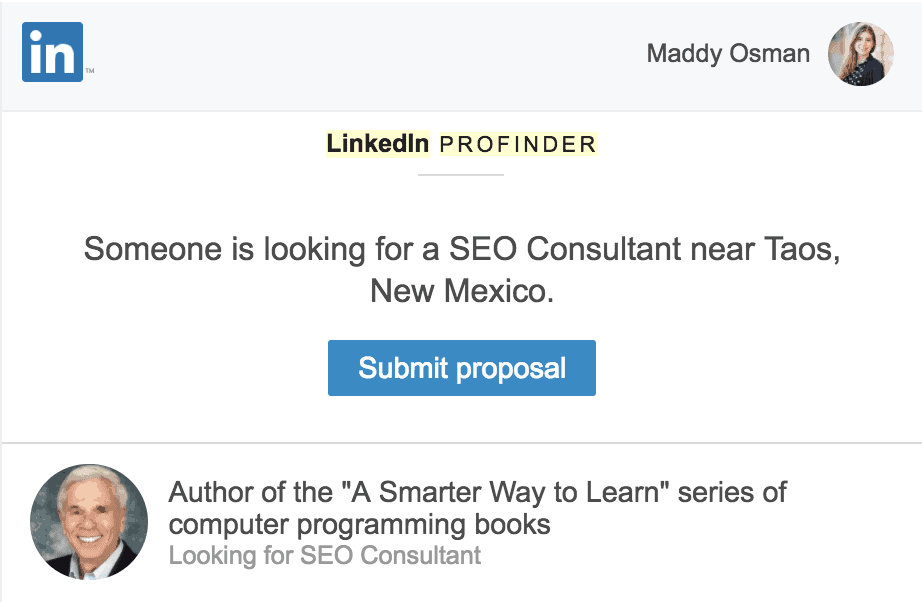 …find something that seems to fit the bill on Amazon—a "Mark Myers"…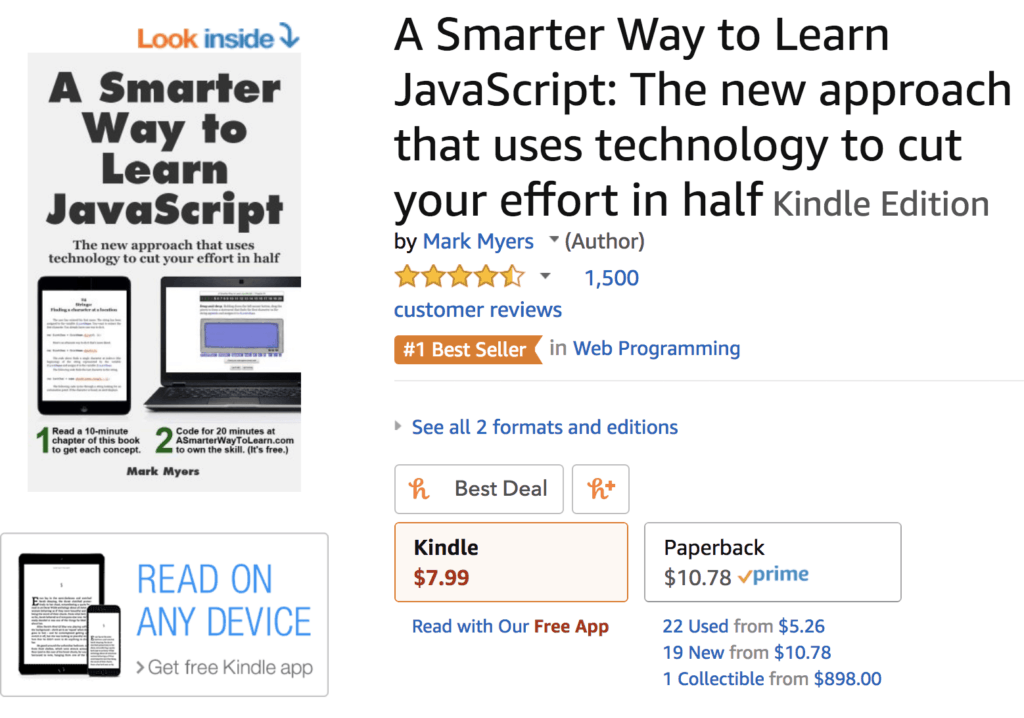 …Search his name and match the headshot on the original LinkedIn email, then facilitate the connection myself on LinkedIn—even if Profinder proposals are no longer being accepted.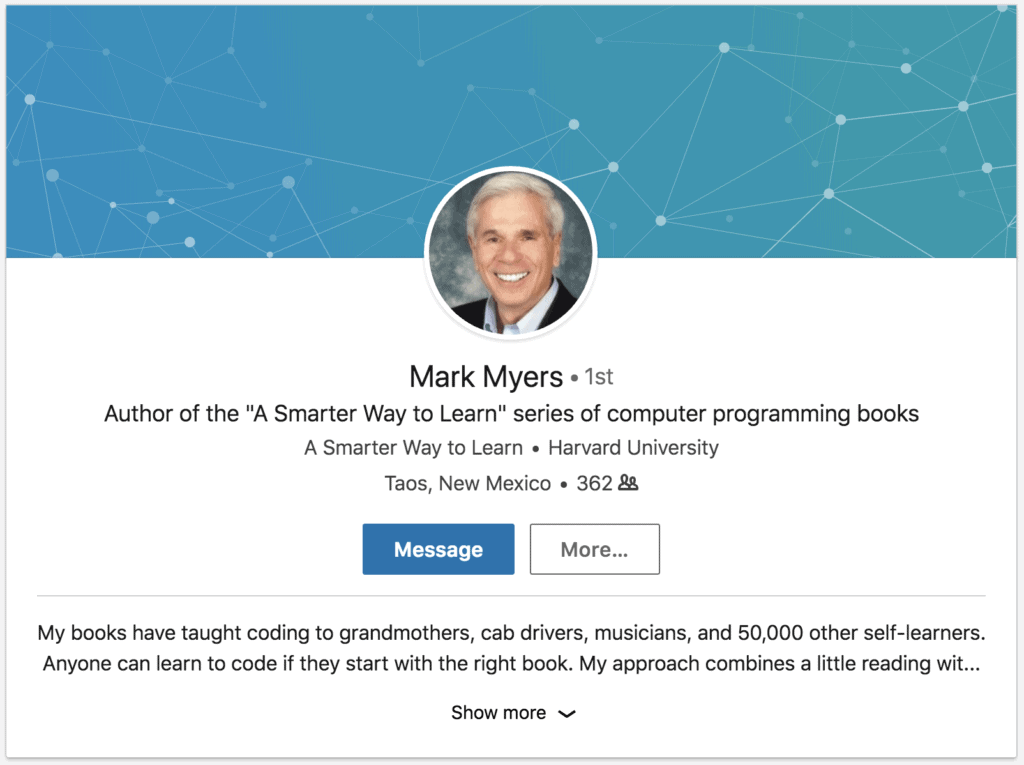 This is precisely how I landed INO Technologies as a client.
Although if this recent, detail-less email from LinkedIn is any indication, the jig may be up:
47. Sometimes they just find and email me.
Remember all those indirect lead generation activities I've been talking about? Those come around to help me in big ways.
As the result of all the personal branding work I've been spending time on, I've recently been contacted by companies like Envato and BigCommerce who ask me to work for them as a contributor.
48. Serendipitous job posts.
Before I quit to freelance full-time, I just happened on a tweet from Choose Chicago's then editor, looking for new contributors. It ended up being one of my most formative and rewarding blogging jobs
The lesson here? Sometimes browsing Twitter isn't a waste of time. It's even less of a waste of time if you create a curated list of prospects and industry jobs to help filter your feed.
49. By developing skills from passion.
A quick history: I started designing website when I was 11 years old. I won a web design competition two years in a row at the local community college, then went on to make more websites in college. My college job is where I developed a love for blogging and social media.
Without having the opportunity to develop these skills from pure passion, I don't know where I'd be today
50. After failing first.
When I first started freelancing, I applied for jobs that were honestly out of my league at the time. One of them? Writing for WPMU DEV.
I applied again a year later, detailing all the growth I achieved in the time between my applications (and some stellar portfolio samples to show for it). I got the job the second time.
Don't think that trying once precludes you from trying again, especially for a dream job. 
51. Sending regular/personal email newsletters.
I send a content marketing roundup every week, prefaced by a blurb written in letter form to my "listies". I've gotten a lot of positive feedback—often in public.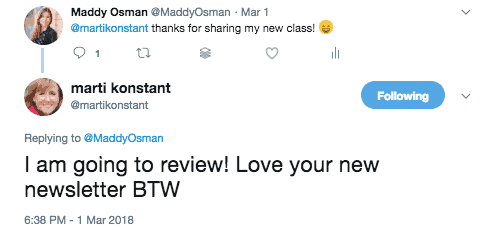 As long as there are people to read it, I'll keep creating it. I can't say that it's directly led to a sale but it certainly has been critical for building a following and staying top of mind.
52. Pitching winning ideas.
In the freelance writing world, you're often asked to submit tailored pitches alongside an application. Or, as it is with 99designs, the pitch is your application. And one really good pitch turned into recurring work for me with 99designs.
I don't come up with all of my pitches on the spot. I'm always thinking about blog ideas and collect them on Trello and Evernote.
53. Working with staffing agencies.
I said it in my latest Skillshare course and I'll say it again—working with a staffing agency means that you're leaving money on the table that should really be yours.
Staffing companies command high fees, which cuts into what you should really be making as an hourly rate. That said, staffing agencies tend to have some cool clients and working with them can be a great way to get good experience and some regular pay if you're just getting started.
Unfortunately, most of these jobs require signing an NDA, so they're not especially useful for growing your portfolio (which is why I can't share specific client names here in reference to this lead marketing tactic).
54. Creating an online portfolio.
There are plenty of tools to do this but I've always defaulted to a portfolio I could update as part of my main website. Many WordPress themes have this functionality built-in.
My portfolio is organized by categories, which makes it easy for me to send out the most relevant collection of samples to each prospect. Saving myself the time of gathering relevant samples for every single prospect helps me to effectively move the sales process to a close—and acts as an excellent public testimonial to my abilities.
55. Automating social sharing.
"Automating" may not be the exact right word but tools like Buffer and Missinglettr help move things along, working in the background.
With Buffer, it's their queue functionality that I rely on. I find relevant articles around the web and Buffer helps me to tweet them out multiple times a day, at regular intervals.
Missinglettr is similarly awesome at saving me time and creative energy.
Thanks to an RSS connection to my blog, it auto-generates a unique campaign of social posts for each article I publish—a year of content (9 posts spaced out over time, to be exact)! The content Missinglettr generates tends to get high engagement, helping to grow my social following, which in turn helps validate my work.
Here's a peak into the campaign approval process: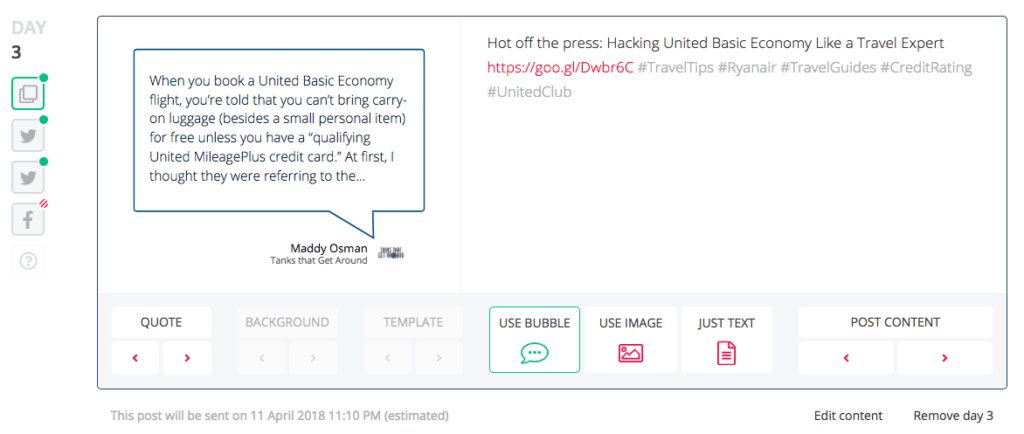 Get 50% off ANY plan for the first 3 months of Missinglettr service.
56. Experimenting with blog sidebar ads.
This didn't require work in that I provided services, but in relation to all the hours I put into my first "real" blog: Urban Cheap Ass.
One of my contributors/friends wrote about a subscription service called Vinyl Me, Please. The post went over fairly well and the company offered some decent payment terms for a sidebar ad. I obliged and split the profits with the writer of the article that brought them in!
57. Pure persistence.
It takes 6-8 touches to generate a viable lead. With this in mind, the sale is in the follow-up.
Furthermore, follow up must be prompt to be most effective. I've made a great number of sales due to persistence in follow up—it helps that I use a CRM to keep track of where I'm at in the sales process with all prospects. Using good CRM software ensures that you stay on top of your sales funnel and never miss a customer follow-up, since it is all automated.
58. Regularly leveling up skills with classes and staying up to date.
By staying up to date on the latest with WordPress, SEO, and content marketing, I can create intelligent strategies for clients. It also helps me win trust during initial lead marketing efforts.
59. Earning (and talking about) industry certifications like Google Adwords and Analytics.
This consumed at least two separate weekends, studying up with Google's provided course materials then psyching myself up for each test.
Telling people that I'm certified on these important digital marketing software programs immediately communicates a level of competence that someone who hasn't passed (due to the time it takes to go through and grasp the study materials) just doesn't have. Being able to throw this on a job application immediately puts me at the top of the pile. It's easy and free to do, so why not?
Understanding the inner workings of these popular digital marketing software tools has also provided a well of ideas for client posts!
60. Creating subscriptions for payments.
This isn't technically about generating leads online or lead marketing but it's about something just as important—creating repeat business.
Using AND CO's subscription payment functionality, I can automatically charge customers who've opted in. After filling out a short form and agreeing to pay a set amount on a set day of each month, the invoicing does itself—as does collecting the payment right away!
61. Asking for more work.
Instead of leaving it open-ended after turning in a deliverable, I'm always asking "What's next?" or proactively coming up with pitches. This is a great tactic for keeping client work constantly coming your way.
62. Getting in touch with marketing agencies.
Usually, this lead marketing is something I purposely try to communicate as low pressure. I simply introduce myself and share my relevant experience if they need new writers in the future.
Kind of like this:

Asking them to keep me in mind usually results in them asking for an immediate call to connect. And when they need me, they get in touch. No hard pressure sales tactics required.
63. Clients like my application and have an opportunity for me months later.
Sometimes I apply to a job post shortly after the poster has already filled the position.
There have been a few situations—like writing for FluentU and Faveable—where this happened and they liked my application enough to actually keep me on file for later follow up!
The lesson here? Generic pitch letters will go to the trash where they belong but a solid pitch, even after a job is filled, can result in future opportunities.
64. Working with one business then applying to a sister business.
Speaking of FluentU, the editors also run the CoSpot blog (which is the same technology FluentU uses for assigning/editing posts to writers). CoSpot is also involved with Monitor Backlinks, who I got a job writing for in part because of my good work with FluentU.
65. Reaching out to an author I like.
After reading Historic Bars of Chicago, I reached out to the author, Sean Parnell, who eventually hired me to help create bar profiles for his website: Chicago Bar Project.
As a result of this work, I also ended up helping him with other client work as part of the marketing agency he started.
66. Acing it on PAID test projects.
According to one of my clients, Jeff Hyman, a "test drive" is the single most predictive pre-hiring step to determine how well a candidate will perform in a role.
I always assign a test project to several candidates before hiring a new contractor and many of my writing clients assigned me a test before officially hiring me. I treat the test project as the single most important thing I could write for my potential clients, which shows them how serious I am about the role, and more times than not—gets me the job.
67. Being open-minded about what to write.
Some of my most lucrative clients are a part of industries I don't have a lot of experience in. Thanks to a great research process and the solid writing structure that make all of my blog writing fairly coherent, I can tackle just about anything someone throws me.
A few examples of worthwhile opportunities involved industries like education, Australian real estate, and capital advances.
Final Thoughts—Lead Marketing: 67 Ways I've Generated Leads Online (& Off)
I hope that by sharing the situations behind my most effective lead marketing efforts, you can see that lead generation can take many forms, notably, direct and indirect tactics for generating business.
Short-term thinking won't lead to long-term gains, so you have to find time in your busy schedule to build your portfolio and brand as a thought leader. These things don't pay but they definitely pay off.
Intrigued by my negotiation style? I share my exact sales process steps and the mindset shifts that have given me the confidence to charge what I'm worth in my Skillshare class, "How to Negotiate A Six-Figure Freelance Salary". You get 2 free months of premium if you sign up with that link!
Over to you: what are some lead marketing tactics that have helped you generate leads: either online or off? Leave your thoughts in the comments below and I'll share my favorite ideas over on Twitter.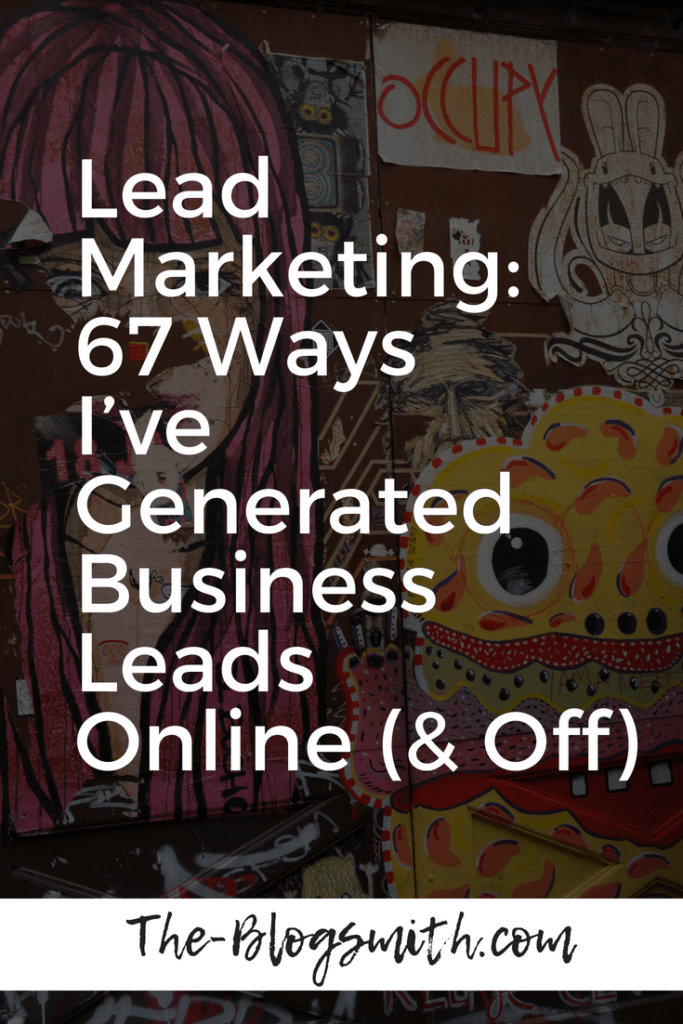 ---
Also published on Medium.