150+ Resources for Starting an Online Business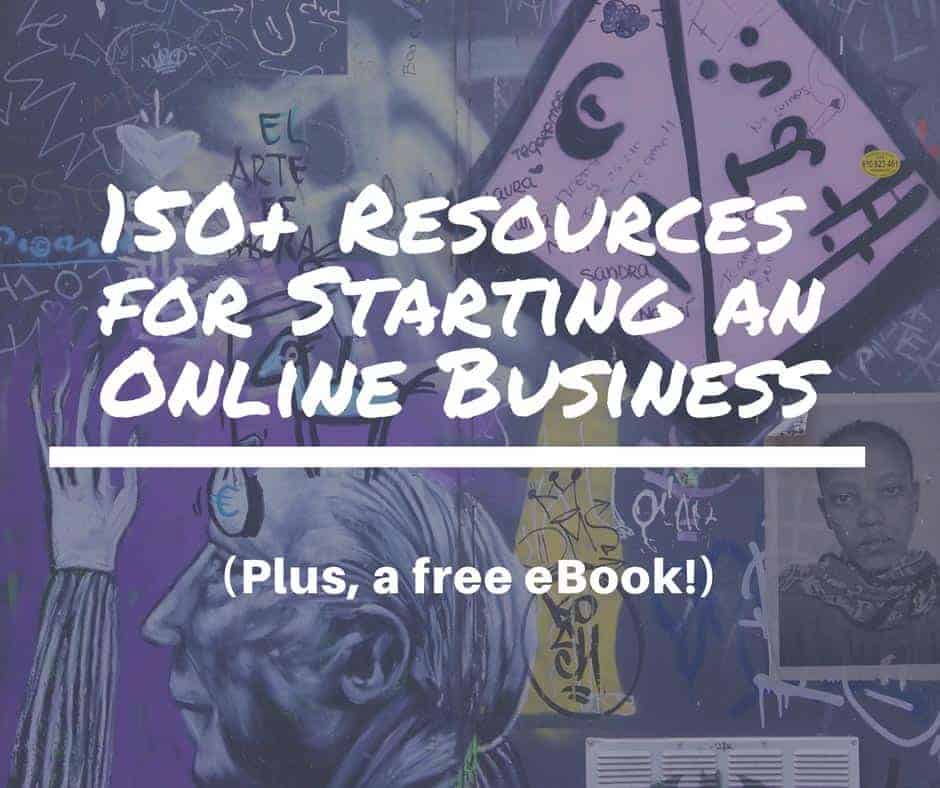 Starting a new business as an entrepreneur or freelancer often results in more questions than answers. Some of the biggest questions revolve around how to do things that you've never really had to deal with before.
Sometimes you don't realize you need something until it becomes urgent. But instead of waiting until a mission critical moment, use this list of 150+ resources for starting an online business to plan for many of the situations that go hand in hand with being an entrepreneur or freelancer.
I've made an effort to include mostly free resources, but for those that aren't – think of them as a tax deduction (and of course, double check with your accountant).
Jump Ahead to a Specific Section:
150+ Resources for Starting a Business
Professional Materials
Regardless of if your business operates primarily offline or online, you'll benefit from many of these foundational professional materials.
Vistaprint: Don't leave your house without business cards – you never know who you'll meet! Vistaprint runs plenty of deals, notorious for offering 500 basic business cards for $10.
Business Plan: This doesn't have to be a complicated document with earnings projections. But before quitting your 9-to-5, make sure you have some sort of vaguely structured plan for how you'll find success and make money.
Elevator Pitch: Create it, write it down, and practice it. How can you clearly communicate what you do in 45 seconds or less? Challenge yourself to figure this out ASAP.
Templates: Create templates for documents like business proposals, strategy, and contracts. Create easily editable documents (with your company's branding) for client-facing materials you use on a regular basis. Xtensio can help you create templates for many of these things if you don't know where to start.
AppSumo: AppSumo is a resource for getting insane deals on products relevant to most small business. Oftentimes, this takes the form of lifetime access to typically subscription-based services for under $50. Some of my favorite deals have been lifetime access to WebinarNinja, KingSumo Giveaways, and Grum Instagram scheduling. Sign up for their email newsletter so you know when deals go live!
Hardware
It's better to have something than nothing, but it's also worth it to splurge upfront on high-quality tech that won't slow you down.
Accounting, Legal, and Finance
Receiving payment from clients, and protecting yourself from a legal perspective are two incredibly important things. Though there are many options out there, here are my favorite resources for starting an online business that relate to these topics
PayPal: Regardless of your personal feelings regarding this resource for starting an online business, Paypal is the industry standard for accepting payments. Depending on the nature of the transaction, Paypal takes 3%. Though you may not like it, think of it as a cost of doing business. You'll find that invoices tend to be paid on time if you make it easy for someone to pay you. Making them jump through hoops can ultimately result in nonpayment. What situation do you prefer?
Quickbooks: Quickbooks is one of the more expensive accounting tools on the market, but I promise you, it's worth every penny. At a glance, Quickbooks allows me to invoice clients (and collect payment), determine which accounts need follow up, compare income to expenses, allow multiple users to have restricted access (like my assistant and my Accountant), and generate necessary reports come tax time. I choose it over Freshbooks due to the ability to accept payments from unlimited clients.
NeatReceipts: I tried using Shoeboxed, but had trouble getting it to integrate with Quickbooks. I recently bought the NeatReceipts scanner and software bundle (about $10/month), which neatly maps expense data to Quickbooks. It's important to have some kind of solution for receipt management, and to actively stay on top of it. Trying to figure everything out at the end of the year for tax time is a headache.
Hellosign: I first used this tool back in my sales days. It allows you to send up to 3 free contracts each month that can be signed without the whole printer/scanner hassle. They are legally binding, and magically stored in the cloud. If you need more access to contracts, their paid plan is only $13/month for unlimited documents.
Open a separate business bank account. Trust me. It'll make accounting easier, and will help you to understand the difference between business earnings and expenses (like taxes!), and money that's actually available to you as far as spending. While you're at it, open a business savings account for taxes, and make sure you're contributing to it each month, based on earnings. I set up an automatic transfer based on estimates so it's out of sight, out of mind. For business banking, use Chase, because that's who I use for my personal banking, and I like seeing all my money together in one place, at a glance.
Establish an LLC. This is for asset protection as much as legitimacy. Make sure to talk to a lawyer to make sure this structure makes the most sense for your specific company. I used IncFile to handle the filing process for me.
Contracts: The best contract is something you create with your lawyer, based on the state in which you do business. But a great place to start is Freelancers Union/And Co's contract creator. Later down the line, you'll want to look into subcontractor agreements, non-competes, and even non-disclosure agreements (to name a few…).
Task Management
If things are going well, you'll eventually get to the point in your business where you start outsourcing work. These tools will assist with collaboration between teammates, and task management.
Collaboration/Communication
Whether or not your business operates online, you'll likely still benefit from using each of these tools that easily facilitates communication, collaboration – or both!
Help/Outsourcing
Whether your hire someone to help you full time, or seek help on a project-by-project basis, these tools can be an immense help:
Fiverr: I use Fiverr for small tasks, like graphic design projects, or easy web design fixes. There's definitely a lot you can accomplish on the platform if you know how to navigate it.
OnlineJobs.ph: I've used this service multiple times to find awesome virtual assistants in the Philippines. It's a good way to get help with administrative tasks at an affordable price. It costs $49/month to access workers, but I post a job, hire an assistant, and cancel my subscription when I'm satisfied with my choice.
Outsourcely: Another resource for finding remote workers to help you build you're business. They're on track to reach 1 million remote workers by the end of the year! Use code "staff30" for a 30% off discount on any plan.
Your Existing Network: You might be surprised by how many people within your network are looking to make money on the side. Why not start your search for help with people you trust?
Web and Smartphone Apps
Sometimes business happens on the go, and I use these Smartphone apps to stay productive.
SEO Tools
You don't have to have an in-depth knowledge of SEO in order to take advantage of these free tools.
Google Trends: Especially useful for determining the seasonality of a topic.
Answer the Public: A semantic search tool that populates keyword/content ideas based on auto suggest from Google and Bing.
Quora: Get content ideas from people asking questions, by topic.
I discuss a number of free and paid tools on my article about white label SEO audit tools.
Blogging
Here are a few blogging tools that will definitely help you find success with content marketing/blogging efforts.
Headlines: The following tools will help you create more effective headlines.
Content Calendar: Plan all content marketing efforts in an organized fashion. Compare themes and topics for blogs, email newsletters, social media, campaigns, and more, day by day, week by week, or month by month. Hubspot has one of the best content calendar templates.
National Day Calendar: Plan ahead to take advantage of trends. On that note, sign up for Meltwater's Social Sidekick, which similarly helps you stay on top of what's going on in upcoming weeks, including TV shows and holidays.
Grammarly: An incredibily useful plugin for any type of online wrting (including emails!), which alerts you when you're spelling or grammar is incorrect. There's a useful free version, and a feature-rich paid version.
Creating Visuals
Visuals are your secret weapon for success in today's online marketplace. You don't have to be a graphic designer or videographer to create attractive and engaging visuals – these resources for starting an online business will set you on the right path.
Quicktime: Quicktime comes standard with Apple computers, and is what I use whenever I need to create simple videos or screencaptures. It can be buggy at times, but is honestly exactly what I need right now. If you're trying to do more intense editing with video, you might opt to purchase Camtasia (I have it downloaded for someday down the line..), a nice entry level video editor.
Canva: Canva is the best image editor for non graphic designers. Thanks to premade templates and stock visual elements, it's hard not to make an image look pretty. You can also upload your own images! Their free version is very extensive, but I pay for Canva For Work ($12.95/month) for a few extra editing tools that I find are worth the price, like the magic resize tool.
Adobe Creative Cloud: Boy, do I miss the days when this was a one-time software investment (minus upgrades). Nowadays, I pay about $10/month for access to Photoshop and Lightroom. There are some things that just can't be done on Canva. They frequently offer discounts through third party partnerships, like CreativeLive, so look out for those!
Pablo by Buffer: If you're super #basic as far as image design, Pablo by Buffer is a great option for you. It's as simple as uploading an image and superimposing text. I used to use it when in the thick of things for Twitter chats, or when live tweeting an event so that my posts will stand out.
Word Swag: This smartphone app can make any image look good. It's a great tool to have in your back pocket for social media image creation, and has plenty of image assets and templates to make the job easy.
99 Designs: crowdsourced graphic design and other creative projects. You provide a prompt, and multiple designers compete for your business. This is especially useful if you're not sure exactly what you want, and need some ideas to work with.
Venngage is an excellent graphic design tool for non-designers. It helps people create visuals like infographics, posters, brochures, and more using customizable templates. It's free to use, but a paid plan has handy marketing features like the branding kit and content gating.
Visme: Visme is an easy to use visual design tool. With hundreds of templates, Visme can be used to create, share, and publish presentations, infographics, and other visual content. Visme features animations, pop-ups, charts, and other interesting features. While Visme has a free plan, the premium version offers useful features, like no branding on projects.
Free Stock Photos
There are many different resources for starting an online business that have to do with finding free stock photos, but here are some free options that can usually fit your needs:
Social Media
I use a number of different tools for managing client and personal social media accounts. These are a few of my favorites.
Hootsuite: There's a free version of Hootsuite's social media scheduling software that will probably cover your bases as an individual. I use the paid version to manage client social media accounts, which also allows me to give other people access to specific accounts within my dashboard.
IFTTT: IFTTT stands for "if this, then that" – a standard understanding of logic within software programs. IFTTT lets you create "applets" that can help streamline/automate certain tasks. There are a number of social media applications to consider to make your life easier.
Grin: an influencer marketing platform, meaning, they connect businesses with social media influencers to crate branded content. They have literally 1,000s of pre-vetted influencers, primarily on Instagram, who will promote your business directly on their content feeds.
People to Add to Your Network
Being a freelancer or entrepreneur can sometimes feel like you're on a lonely desert island. But the most successful people seek out partners (or contractors) that fill the gaps in their knowledge. A good connection should result in referrals – both to you, and from you.
Here are some people you should proactively seek to add to your network if they aren't there already:
Photographer
Graphic designers
Web developer
Digital marketer (this may be you on behalf of yourself)
Accountant
Mentor
Where to Network
Whether to find other freelancers for mutually beneficial referrals, clients, or subcontractors, networking is an essential activity for the budding freelancer or entrepreneur. Here are some places to seek out connections, both online and offline:
Offline
Local chamber of commerce
Local small business association
Trade association (I'm a member of BMA Colorado)
Eventbrite
Online
Linkedin's publishing platform: Repost blog content for additional reach, without the penalty of duplicate content
LinkedIn groups
Deskpass is a monthly subscription that allows you access to coworking spaces in major cities, like Chicago, LA, and Denver. It will get you out of your house, and into an environment where business connections are easily made with other independent workers.
Website-Related Stuff
As someone who's been designing websites since age 11 (yes, really), and someone who understands different facets of digital marketing, I feel uniquely qualified to present this specific section of resources for starting an online business.
WordPress Plugins
If you don't use WordPress, you're missing out on a lot of functionality, and even SEO benefits! If you do use WordPress, check out my essential launch list for plugins you should be using from day one.
Full explanations of each will be available on an upcoming article to be published on Developer Drive. I'll update this post when that link goes live!
In the meantime, check out my website launch checklist on Developer Drive if you're working on a new website, to make sure you have your bases covered!
Email
Most of these take the form of Gmail add-ons or products with Gmail integrations. If you don't have a Gmail account, I highly recommend it.
Two vague tips to leave you with as far as email management as a freelancer or entrepreneur:
Set up a label system so that your inbox is reserved for emails that need some sort of action taken on them. Don't let a messy inbox get in the way of kicking butt on client projects, or causing you to miss out on opportunities.
Always aim for inbox zero – it's going to be hard to get there, especially at the beginning, but a clean inbox makes for a clear mind.
Books
I read about 1 book a week, thanks to the motivation of several years of Goodreads challenges. I have a special affinity for business books, which I consider to be one of the best resources for improving my business. Here are a few of my timeless favorites:
Content Curation
Nobody wants to hear from just you all the time. I promise. To simplify the process of creating social media updates (especially on Twitter!), here are three tools I swear by for content curation:
Buffer: Instead of traditional social media scheduling tools, Buffer works with a queue system. You specify at what times you want posts to publish (by network), and all you have to do is fill it up with content! Buffer's browser extension simplifies the process so you can add content on the fly.
Nuzzel: Nuzzel integrates with the people you're following on Twitter and sends a daily digest of content based on what's popular. Assuming you're following people in your industry, this can be a great resource for content curation, especially when implemented with Buffer. This video will show you how to use Nuzzel and Buffer together.
Sniply: Sniply is an interesting tool for content curation. It allows you to add a call to action on any article you share, encouraging people to check out your website.
And if you're looking for more places to curate content from, here are some of my favorite industry newsletters.
Newsletters/Blogs
These newsletters/blogs are great resources for staying up to date on digital marketing news, as well as represent great resources from which to curate content:
Podcasts
There are seriously so many amazing podcasts that act as resources for starting an online business, but here are a few of my go-tos:
Courses/Certifications
Courses and certifications allow you to level up digital marketing knowledge, for yourself and clients. Certifications can help you stand out from other freelancers for certain projects.
This article on the topic that I wrote for a client explains everything you need to know about the 4 aforementioned courses and certifications.
Additional courses worth your consideration:
And if you're looking for additional guidance from experts, consider the following general online learning resources, which compile complete courses from industry experts:
Additional Freelancer Resources
Here are a few blog posts I've written specifically to help freelancers:
Whew! You made it all the way through my 150+ resources for starting an online business. But since I don't know everything, I'd love to hear from you:
What are your top resources for starting an online business?
Leave your thoughts in the comments below so that we can make this list an even better resource for new entrepreneurs and freelancers!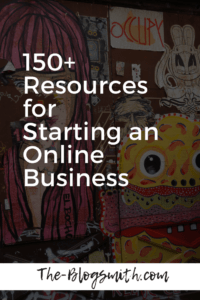 ---
Also published on Medium.